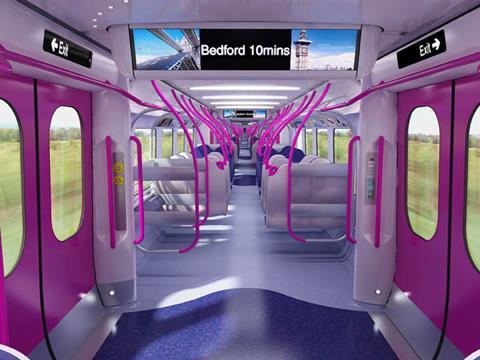 UK: On November 27 the Department for Transport issued pre-qualified bidders Alstom, Bombardier, Hitachi and Siemens with invitations to tender to supply a fleet of dual-voltage EMUs for Thameslink commuter services through London. The exact number of trains is still to be determined, but the manufacturers have been told to expect an order in the region of 110 units, described as equivalent to 300 four-car sets.
DfT expects to select the best offer by the end of next year, 'although the timing for contract award recognises the length of time required to complete the financing of the trains in the current economic climate.'
Current Thameslink service operator First Capital Connect has supported DfT in the development of the indicative specification, and will sign the contracts with the successful bidder.
As the Thameslink fleet is likely to form the basis of the next generation of commuter trains in the UK, the specification was drawn up in consultation with the team working on the Crossrail rolling stock specification.
FCC said advantage is being taken of interoperability regulations to encourage manufacturers to adopt 'attractive features that are commonplace in the latest suburban train builds being delivered abroad', and 'avoid the problems experienced in the past of unique UK train designs.'
It has been determined that there will be little opportunity to split and join units in service, and so they are being specified as fixed rakes 240 m and 160 m long. The 240 m sets will have an outer-suburban interior layout, while the shorter sets will come in both outer and inner suburban layouts, with the inner suburban units having only standard class seating, possibly in a 'metro style' format.
Accessible toilets and wheelchair spaces will be provided in the centre of the trains, with first class in the end vehicles and cycle racks in two designated vehicles. Wide gangways will run through the train, and passenger surveys have shown a preference for 2+2 seating and standing space rather than 2+3 seating.
Network Rail is keen to examine the case for articulation, as the reduction in axles and weight could reduce track wear. Regulations will now treat conventional and articulated vehicles equally, and lighter designs which are less damaging to the track will be seen as 'a powerful advantage in the bidding'.
The trains will be equipped to work with both conventional and ETCS Level 2 signalling, and automatic train operation is being considered for the core section through central London.
Thameslink procurement timescale
November 27 2008
Invitations to tender issued
April 2009
Detailed proposals submitted
End 2009
DfT selects best offer
March 2010
FCC signs contracts
Autumn 2011
Testing begins
2012
First trains enter service
2015
Deliveries complete