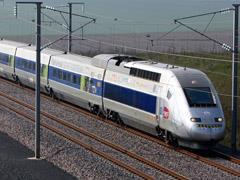 FRANCE: RFF President Hubert du Mesnil and Chief Executive of Vinci Constructions Xavier Huillard signed the PPP concession for construction and operation of LGV Sud-Europe Atlantique on June 16. The ceremony in Paris followed confirmation of the terms by the RFF board on June 9 and approval by the Prime Minister on behalf of the government.
Under the 50-year concession, the line will be built and managed by the Vinci-led LISEA consortium. As project manager, LISEA has awarded the construction contract to the COSEA joint venture of Vinci Constructions, Eurovia, BEC, NGE, TSO, Ineo, Inexia, Arcadis and Egis Rail. Tata Steel will supply the rails. The line will then be maintained and operated by MESEA, a subsidiary owned 70% by Vinci and 30% by Inexia.
The 302 km high speed line linking Tours, Poitiers and Bordeaux is expected to reduce Paris – Bordeaux journey times to just 2 h 5 min. The LGV SEA package also includes 17 connections to the conventional network, adding a further 38 route-km. Civil works include 400 structures, of which there are 19 viaducts and seven cut-and-cover tunnels. Construction work is expected to begin in the first quarter of 2012 and take 73 months.
Capital cost of the work is put at €6·2bn, with the total financing package valued at €7·8bn, making it the largest PPP deal to be awarded in the French railway sector. LISEA will contribute €3·8bn, with the remainder coming from RFF, national and local government. The European Investment Bank will provide €1·2bn, through a mix of government-guaranteed and non-guaranteed loans to the consortium and the French state, plus contributions to the EU's TEN-T programme. RFF expects to spend a further €1bn on upgrading and modification of its existing network to connect with the new lines, including capacity enhancement works at the main station in Bordeaux.