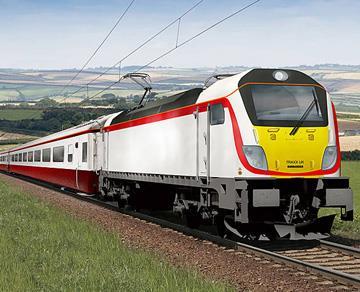 UK: Bombardier is targetting Greater Anglia and InterCity East Coast as possible customers for a UK version of its successful Traxx electric locomotive family. According to Alberto Lacchini, Director, Sales, in Bombardier's Locomotives Business Unit, 'we are well advanced in the design and are ready to launch the product'.

Bombardier believes that the Traxx P200 AC UK Bo-Bo electric locomotive fitted with a 'last mile' diesel engine would offer 'a lot of value for money' for UK operators such as Greater Anglia. Whereas the MkIII coaches used on London – Norwich inter-city services are 'excellent' vehicles that may last for another 20 years, the Class 90 locomotives will need to be replaced before that.

Lacchini emphasises that a 25 kV 50 Hz version of the Traxx family suitable for the UK with its small loading gauge will not require a special design to be developed. About 60% of components are common to all versions of the Traxx, one feature being the location of the main traction package in the centre of the locomotive rather than on either side of a central aisle. This makes it relatively easy to build a smaller and narrower version that would fit the UK loading gauge, Lacchini indicated.

Bombardier considers that the time is right to bring 'Continental reliability' to the UK electric locomotive market and reports that its presentation of the Traxx P200 AC UK to the Department for Transport generated a 'very positive' response. Bombardier expects to follow its approach to passenger operators with a similar approach to the freight market where diesel traction dominates at the moment. Forthcoming electrification plans will favour the wider use of electric traction, he points out. The 'last mile' diesel option which Bombardier unveiled at the Transport Logistic trade fair in München in May could prove to be particularly attractive to freight customers.

The P200 AC UK would be able to run at 200 km/h and have a maximum power rating of 5 600 kW; maximum starting tractive effort would be 300 kN. Its 'last mile' diesel engine meeting Stage IIIB emissions regulations would deliver 180 kW at the wheel. The locomotive would weigh 82 tonnes and be 18·6 m long, the 2 743 mm width fitting within the UK loading gauge.

Bombardier envisages that the P200 AC UK would be prepared for ETCS and could be equipped to run through the Channel Tunnel and in northern France.