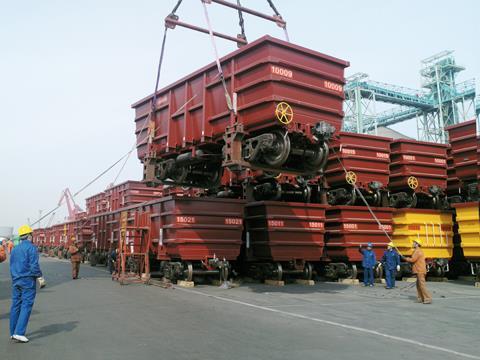 Africa: Using Chinese financial support, Tazara has ordered six diesel locomotives with GE Transport­ation technology to be delivered from China later this year.
Bulgaria: Sofia has acquired 20 Tatra T4D-C trams from Halle.
Canada: On March 14 Bombardier announced a C$125m order to supply Toronto's GO Transit with 50 BiLevel coaches from November, bringing the operator's double-deck fleet to 565 cars.
Metrolinx has placed a C$53m order with Sumitomo and Nippon Sharyo for 12 two-car DMUs to be used on the planned link to Toronto's Pearson Inter­national Airport. Based on DMUs ordered by Smart in California (RG 2.11 p19), they will be designed for future conversion to electric power.
China: Nencki is to supply two more bogie test stands to CNR Changchun for use with Velaro C bogies. CSR Sifang has ordered a fourth stand for bogies from 380 km/h trainsets.
Europe: Czech supplier Legios is to supply leasing firm Touax Rail with 100 Sggrss 80 articulated container flat wagons by August, with an option for another 90 which would bring the value to KC900m. Ambrogio Trasporti ordered 1000 similar vehicles last September.
Finland: At a total cost of €28m VR Transpoint has ordered 220 lumber wagons from its Pieksämäki workshop, and 106 peat wagons will be converted to carry woodchips.
Germany: Stadler Pankow announced its largest ever rolling stock contract on March 7, a €200m order to supply Veolia with seven three-car and 28 six-car Flirt EMUs for use on the E-Netz Rosenheim network in Bayern from December 2013.
India: Interpipe is to supply 200 KLW brand wheels to the Delhi metro.
Israel: On March 2 Vossloh España confirmed that ISR had placed €100m of firm orders for diesel locos. It will deliver 14 Euro 4000 locos from Nov­ember for passenger and later freight trains, while 15 Euro 3000 passenger locos will be supplied from September 2012, with options for more.
Poland: SKM Warszawa has selected Newag and Millennium Leasing to supply six EMUs for a 10-year period, with delivery within 16 months.
Due to be unveiled in October, the E4ACU 'Elephant' locomotive, a 6 MW Bo-Bo with a top speed of 200 km/h, is being developed by ZNLE Gliwice to designs by EC Eng­ineering. ZNLE's 'Dragon' prototype (RG 11.10 p75) is currently on test.
Russia: In February UVZ reached an agreement to deliver 20000 open wagons to Freight One by 2014.
Freight One is testing an initial six Type 19-9835 fertilizer hoppers built by the Tikhvin plant which offer a higher capacity than Soviet-era designs. Severstal is to supply Tikvin with rolled steel for wagon manufacturing.
South Africa: The US Ex-Im Bank has approved a US$100m loan guarantee to support Transet's purchase of 100 GE C30ACi locomotives (p101), and a preliminary commitment of US$200m for more.
Spain: CAF has handed over the first of 30 four-car Series 900 EMUs it is building for EuskoTren under a €201m contract. Three will enter service on the Lasarte Oria – Hendaye route by the end of June, with deliveries completed in early 2014.
Sweden: Last month Västtrafik exercised a €66m option with Alstom for an additional 11 Coradia Nordic X61 four-car EMUs.
Switzerland: BLS has placed a SFr38m order with Bombardier and Alstom for four more Lötschberger EMUs to be delivered between September and December 2012, bringing its total order to 25 units.
Ukraine: Poltava has ordered 400 Type 12-9046 iron ore pellet wagons from Stakhvin with an option for 600. The base price of US$65000 per wagon is subject to market adjustments.
USA: On March 15 leasing firm GATX announced an agreement to buy 12500 wagons from Trinity Industries over the next five years.
Brookville is to deliver 10 BL36PH commuter locomotives with MTU engines to Florida's Tri-Rail by the second half of 2012. There is an option for 17 more, four of which are earmarked for Sound Transit.
Harris County MTA has allocated $83m for the purchase of a further 19 Siemens Avanto S70 LRVs for delivery to Houston from October 2012. They are part of an option for up to 180 which Utah Transit Authority agreed to enable other operators to obtain cars at a favourable price.
This month American Railcar Industries will begin delivering 3500 wagons ordered by CIT Rail Resources.