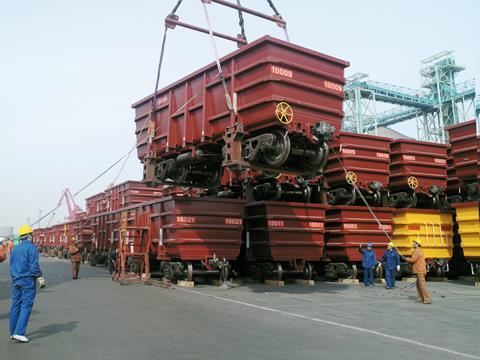 Australia: In February UGL Rail announced contracts totalling A$225m to supply nine GE Evolution locomotives to Rio Tinto, an additional 25 Oscar EMUs to RailCorp, and 10 C44Aci locomotives and wagon maintenance services to Freightliner.
Belarus: BC has placed a 8·1bn ruble order for six 620M single-car DMUs to be built by Belkomunmash under licence from Pesa for delivery from August. Belkomunmash plans to produce similar two and three-car units.
Canada: Quebec North Shore & Labrador has ordered a further five winterised EMD SD70ACe locomotives for delivery from August, augmenting seven delivered last year and used on 20000 tonne iron ore trains.
Faiveley is to supply air-conditioning, pantographs, doors and braking for 182 Bombardier Flexity trams ordered by Metrolinx in June 2010 under the Toronto Transit City programme.
China: CNR Changchun has won a 3bn yuan contract to supply eight-car Type B metro trains for 42 km Beijing Line 6 which is scheduled to open from December 2012.
Croatia: TZV Gredelj is to modernise nine EMD GT26 locomotives for National Railway Equipment Co under a US$14·5m contract.
Czech Republic: CD has ordered a further eight Skoda CityElefant Class 471 double-deck EMUs for delivery by spring 2013 at a cost of KC1·75bn, bringing its total order to 83 in four batches.
Metrans has ordered three Siemens Eurorunner ER20 diesel locomotives.
Pragiomex has won a KC266m contract to modernise eight Liberec trams.
France: RATP has bought two shunting locomotives from Colas Rail for RER Line A.
Italy: Freight operator Inrail has placed a €8m order for two Siemens Eurosprinter ES64U4 four-system electric locos to be delivered by June.
Mexico: Ferrocarril Mexicano has ordered 44 SD70ACe locomotives for delivery from April. They will meet EPA Tier 2 emissions standards for use on trains into the USA.
Poland: Last month Metro Warszawskie confirmed a €272m order for 35 six-car Inspiro metro trains to be delivered by Siemens and Newag from autumn 2012 (RG 11.10 p23).
Zachodniopomorskie voivodship has ordered an additional pair of three-car DMUs from Pesa, taking its total order to 12 units.
Newag is to rebuild 100 PKP Cargo SM42 shunting locomotives, installing 652 kW Caterpillar engine under a two-year contract worth 300m złoty.
Freight operator Pol-Mied Trans has taken delivery of two Bombardier Traxx F140DC locomotives.
Portugal: CP is leasing 17 Class 592 DMUs from RENFE until 2014 at a cost of €21m, with five now in use on Porto – Régua services. They are being refurbished by RENFE's Valladolid workshops, which will share maintenance with CP's EMEF business.
Romania: Cargo Trans Vagon has ordered two Siemens Eurorunner diesel locos for delivery from April.
Spain: Feve has ordered four three-car Vossloh España tram-trains to work passenger services on the Cudillero – Gijón line and capable of operating as trams in Avilés. The 38 m vehicles will have capacity for 283 passengers, with 78 seated. Floor heights will vary to suit FEVE's 1050 mm platforms and 350 mm tram stops.
Sweden: Västtrafik has extended its order for 22 Alstom Coradia Nordic EMUs with a SKr682m contract for an additional 11 units.
EuroMaint Rail is to overhaul the bogies of the Bombardier Flexity Swift A32 trams operated by Veolia on Stockholm's Tvärbanan.
Switzerland: Regionalverkehr Bern-Solothurn is to exercise an option for a further eight Stadler NExT low-floor EMUs at a cost of SFr64m, enabling all Solothurn – Bern services to operate with the type from 2013.
Ukraine: Skoda has won a €40m contract to supply two 160 km/h six-car dual-voltage broad-gauge versions of the CityElefant double-deck EMU to UZ's Southern division in 2012.
UK: Direct Rail Services has ordered 25 WH Davis twin-section Lowliner container wagons allowing high cube traffic within restricted clearances.
USA: Toshiba is to provide traction equipment for 364 Kawasaki Series 7000 metro cars being supplied to Washington, and for 160 Nippon Sharyo gallery EMU cars for Chicago's Metra.
Under contracts totalling $18m, Ansaldo STS is to supply MicroCab ATC for 100 Bombardier double-deck cars ordered by NJ Transit, and the Kawasaki cars for Washington (above).
Venezuela: CAF ordered 192 auxiliary power converters from SMA Railway Technology for 48 four-car trains being supplied to Metro de Caracas.