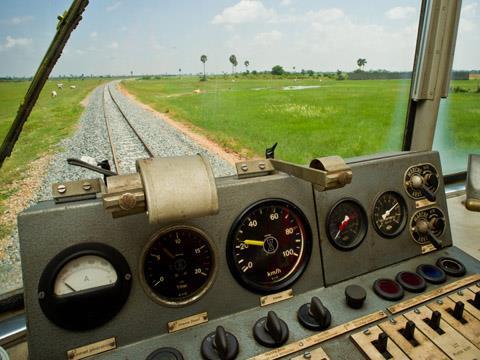 CAMBODIA: Australian overseas development agency AusAID has pledged further financial assistance to support the rehabilitation of Cambodia's partly-modernised metre-gauge network.
AusAID's contribution of at least A$1m will support the relocation and compensation of families affected by the US$141m railway modernisation. The upgrading work is being co-ordinated by the Asian Development Bank in partnership with the Cambodian government and AusAID.
A 30-year operating concession was agreed in June 2009 with the Toll Royal Railways joint venture of Australian logistics group Toll and the Cambodian Royal Group of Companies, and freight services between Phnom Penh and Touk Meas commenced in October 2010. However, these were suspended in March this year when TRR said it was putting operations on hold because of delays in the infrastructure enhancement works.
On August 29, TRR Chief Executive David Kerr announced that the concessionaire intended to resume revenue services and invest further in refurbishment and procurement of rolling stock. TRR also confirmed that upgrading work had recommenced on both the 256 km Southern line linking Phnom Penh with the port of Sihanoukville, and the Northern line running from the capital to Sisophon, close to the Thai border.
TRR has signed a letter of intent with Richz Electronic Services of Malaysia to act as a 'strategic partner for the provision of locomotive components and spare parts' and technical assistance in the rebuilding of Alstom locomotives in Cambodia. TRR is also working with the government to ensure 'transparent processes are established and followed' when tenders are called for the purchase of new container wagons and locomotives rated at 1500 kW to 2200 kW, Kerr said on September 20.
A detailed report on the Cambodian railway upgrading programme appeared in the August 2012 issue of Railway Gazette International, available to subscribers via our digital archive.