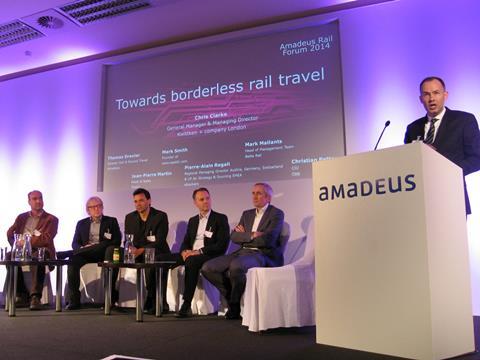 TICKETING: A hands-off ticket machine, expansion into Asia, Russia and the Middle East and plans to enter the commuter ticketing market were highlighted by transaction processing specialist Amadeus at its Rail Forum held in Wien this month.
While Amadeus' rail business has so far focused on long-distance and high speed travel, it is now considering working with short-distance and commuter operators, according to Thomas Drexler, Global Head of Rail & Ground Travel. For example Amadeus could provide 'better cost management' when handling season ticket transactions.
Drexler said Amadeus has 'clear plans to expand into Asia' targeting the big railway operators, and the company is also looking at opportunities in Russia and in the Middle East, where several passenger rail operations are expected to launch in the near future.
Noting that there is a trend to provide a door-to-door travel service that may include 'first and last mile transport' such as taxis, Drexler said railways needed to learn from the airlines 'that distribution is not a bad thing'.
He pointed out that 'it took a while, until 2000, for the airlines to learn that IT is not core for them and they don't need to run it themselves. Now the railways are doing the same.' Citing the example of the BeNeRail International contract announced in May, Drexler believed that Amadeus could ensure good service levels and stability for railway IT systems and ensure that they remain 'on top of technology'.
Amadeus is working on a range of new technology options, and a prototype 'Leap Motion' display was on show in Wien. By making pointing and other arm movements in front of a large screen, it is possible to select a journey and find the best price without using a keyboard or mouse. Another demonstration showed the 'Rail on Board' product which uses crowd-sourcing techniques to find answers in real-time during a rail journey.