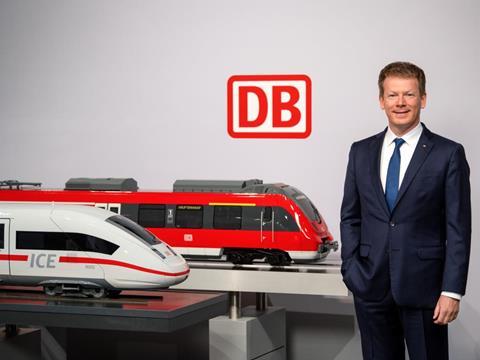 GERMANY: Deutsche Bahn Chief Executive Dr Richard Lutz has brought in emergency spending controls, amid reports of a third warning that the group's 2018 profit target was unlikely to be achieved.
According to local media, Lutz has written to senior executives warning that business had deteriorated in recent months rather than improving. As such, the operating profit would be 'well below last year and far from our objectives'. DB's earnings in June and July were said to be €160m below budget, making it unlikely that the group would achieve its reduced earnings target for the year of €2·1bn. Meanwhile, Reuters reports that DB is anticipating that its freight activities will make a loss of €150m to €200m in 2018.
The railway's debt is now close to €20bn, and internal projections are said to show that without urgent action it could reach €25bn by 2023. The spending restrictions are intended to keep the total below the debt limit of €20·4bn set by the Bundestag budget committee. The intention is that contracts above a given amount should only be placed with special approval.
Citing 'unsatisfactory' co-operation between the various business units, the executive board suggested that DB should be managed more centrally in future.
Announcing its half-year results on July 25, DB AG reported that ridership in its long-distance segment had risen by 3·8% to a record 70·9 million trips. However, EBIT of €974m was down by 17·4% on the previous year as a result of special charges resulting from inclement weather, falling rail freight volumes and higher investment in punctuality.
DB planned to spend around €100m this year to improve punctuality under its Zukunft Bahn strategy, but in August the on-time rate fell below 76%, worse than the performance level when the programme was launched in 2015. Long-distance performance was just 69·8%, compared with 72·1% in July and 74·7%, with the railway blaming the prolonged hot weather. Performance is expected to improve in September following a drive to repair both vehicles and infrastructure.