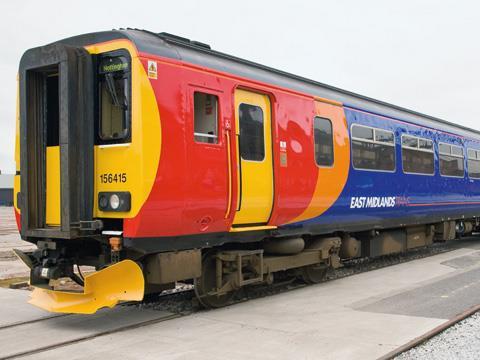 UK: Artemis Intelligent Power, Ricardo and Bombardier Transportation are collaborating on a research project aimed at providing a regenerative braking system for diesel multiple-units.
The mechanical energy storage system combines the Artemis digital displacement hydraulic pump/motor with Ricardo's Kinergy flywheel energy storage system. Bombardier will be responsible for systems integration.
The Digital Displacement Rail Transmission with Flywheel Energy Storage project is a partnership between the three companies, with co-funding from the UK government via the Technology Strategy Board's Accelerating Innovation in Rail programme. The project is to start in the second half of this year.
Most DMUs have hydro-mechanical transmissions. Unlike electric traction, where current from regenerative braking can usually be returned to the overhead line or third rail, a DMU is self-contained.
As a result, regenerative braking systems for DMUs require some form of onboard energy storage. In this case, energy storage is provided by the Ricardo flywheel. This technology has been in use for some time in motor racing where cars are fitted with Kinetic Energy Recovery Systems. The KERS flywheel or battery is charged during braking and the stored energy can than be used to give the car a brief power boost.
Experience with regenerative braking on electric trains has shown energy savings of between 15% and 20% depending on the duty. Inner-suburban EMUs with frequent stops have recorded over 20%, but more typical is the 17% being achieved on Virgin West Coast's Class 390 Pendolino fleet.
Ricardo is forecasting savings of between 10% and 20% from the mechanical system which is conceived as a cost-effective solution that could be retrofitted to existing DMUs. The development programme will couple the system to a wheelset supplied by Bombardier which will be tested on a dynamometer rig by Artemis. A follow-on project could see a pre-series installation tested on an operational DMU.
Ricardo points to a range of operating strategies for the technology. It could be used to modulate the power demand on the engine so that this operates closer to its optimum specific fuel consumption to save fuel and reduce emissions. Alternatively, it could be configured to augment maximum engine power to increase acceleration. This could increase the operational flexibility of lower-powered older rolling stock.
Ricardo is currently evaluating the Kinergy unit in a commercial bus application. While a number of flywheel systems have been developed, a key feature of Kinergy is the use of a magnetic coupling to connect the flywheel to the output shaft. This avoids the need to seal a shaft entering the housing where the flywheel runs in a vacuum at up to 60000 rev/min.
The Artemis hydraulic pump/motor is also innovative. In place of the usual swash plate, it uses solenoid-actuated valves running under digital control to regulate the flow of fluid in and out of the cylinders of a radial pump/motor.