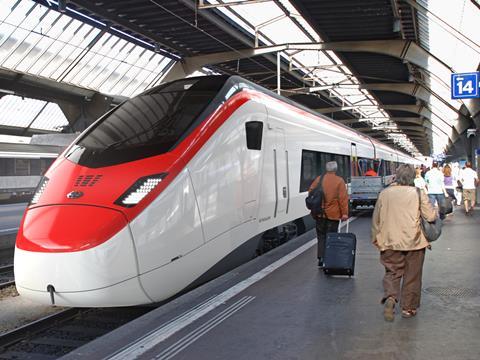 STADLER: The after-effects of the Swiss central bank's January 2015 decision to remove the exchange rate cap with the euro have hit Stadler, owner and CEO Peter Spuhler said when reviewing the past year on June 13. The 'Frankenschock' had brought a 'massive collapse' in margins, which Stadler estimates has cost the company more than SFr100m. 'These are funds that we will not be able to use for investment, for innovation or as a buffer in leaner times', said Spuhler.
Orders in 2015 totalled SFr2·1bn, down from SFr2·9bn in 2014 and SFr2·6bn in 2013, 'but nonetheless still good'. The main reason for the fall was that orders which were to be finalised last year were pushed back to the current year.
Utilisation levels at Stadler's factories is good, except at Minsk which is experiencing under-utilisation as a result of the fall in oil and gas prices and the Russian financial crisis. However, Spuhler said Bussnang would also need to take on more projects in order to keep at full capacity in 2017.
As a result of the Swiss currency situation, but also owing to the Russian financial crisis and its effects on CIS countries, Stadler has adjusted its strategy to focus away from that region. It now aims to expand in new market sectors, along with a 'strategic repositioning' including entry into the UK and Australian markets and plans to open a local production plant in the USA.
The acquisition of the Valencia-based Rail Vehicles locomotive and light rail vehicle business from Vossloh was last year's 'most significant milestone', bringing a foothold in the diesel-electric locomotive market and opportunities in Spanish-speaking markets. More than half of Stadler's workforce of 7 000 is now outside Switzerland, and although the company is becoming increasingly international, Spuhler has decided that German will remain its official language.
The first of the Giruno EC250 high speed trains ordered by Swiss Federal Railways is to be displayed at InnoTrans 2016 in Berlin. It will also be at the centre of Stadler's 75th anniversary celebrations in May 2017, when its Swiss plants will hold public open days.