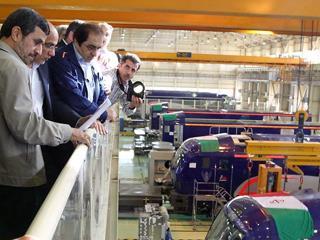 IRAN: President Ahmadinejad officially inaugurated a locomotive assembly plant on July 17, saying the new facility operated by industrial group MAPNA would support national self-sufficiency and produce high-quality locomotives at lower prices than imported equipment.
The factory has the capacity to produce up to 150 locomotives a year, in addition to coaches and wagons. It is initially producing IranRunner diesel locomotives under a 2008 technology transfer agreement with Siemens which covered 150 locomotives, the first 30 of which were supplied from Germany.
According to MAPNA, the single-cab 160 km/h locomotives are 25% more fuel efficient than RAI's existing fleet of mostly US designs.
In January 2010 Siemens announced its withdrawal from the Iranian market once it had completed existing contracts.