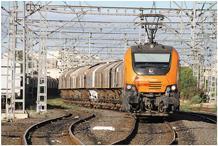 MOROCCO: A ceremony on September 25 attended by King Mohammed VI marked the start of modernisation of the Casablanca – Kénitra main line to increase capacity by around 50%.
National railway ONCF has cited strong growth in passenger numbers on the Tanger – Marrakech axis in recent years, driven by 'the dynamic growth in tourism and social-economic and cultural dynamism which has affected this region'. Partly funded by a €300m loan from the African Development Bank, the upgrading will see a third track added between Casablanca and Kénitra for freight traffic, releasing capacity on the existing double-track alignment. ADB expects the modernisation programme to create 20 000 direct and indirect jobs.
ONCF expects to carry 24 million passengers per annum on the Tanger – Marrakech corridor by 2016; work has already started on a 200 km dedicated high speed line between Tanger and Kénitra for completion by the end of 2015. The upgraded section to Casablanca via Rabat will see TGV Duplex trainsets run at 220 km/h under 3 kV DC catenary.