IRELAND: National economic growth has required a rapid increase in capacity and service quality at Iarnród Éireann. Chief Operating Officer Dick Fearn told Andrew Grantham how this is being provided, and why he is happy with a vertically-integrated railway.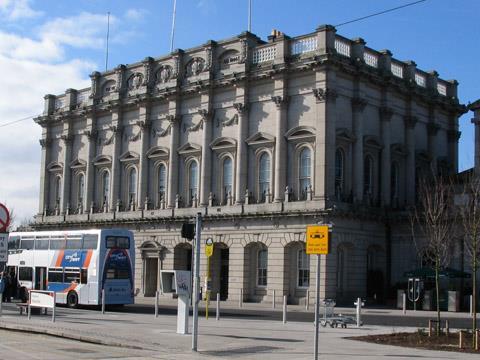 'RAILWAYS very much reflect the economy', believes Dick Fearn, Chief Operating Officer at Iarnród Éireann. The Irish economy has been 'one of the most buoyant and successful anywhere in the EU' in the last decade, with 'railways very much a part of this'.
Services have had to grow to match the tremendous economic expansion of recent years. When Fearn moved from the UK rail industry to join IÉ two years ago, he saw there was 'clearly a huge momentum for growth', reflecting the expansion of both the economy and the population. While the growth has focused on Dublin, home to 1·1 million of the Republic of Ireland's 3·9 million people, a major upgrade of inter-city services is now in hand, regional lines are no longer threatened, and freight traffic has a bright future 'in the right markets'.
The DART electrified north-south suburban service through Dublin was launched in 1984, and subsequently extended to 37 km. It is intensively used in the peaks, and work is underway on the first phase of a two-stage upgrade to allow a further 'increase in its role as an intensive peoplemover in the city'. By the December timetable change all platforms will have been lengthened to allow the operation of eight-car trains, doubling capacity compared with six years ago. The 1·5 kV DC overhead electrification is being strengthened, and new track and signals are being installed.
The work is 'necessary but not sufficient' to cope with the demand. DART runs over tracks shared with diesel outer-suburban and inter-city trains, limiting capacity. Phase 2 of the upgrade, which is currently being planned, will see a reduction in headways on the double track line across the River Liffey between Connolly and Pearse stations. At the moment the link can handle 11 trains per hour in each direction, and 'increasing capacity is going to require significant resignalling.' The scheme will give a 45% increase to 16 trains per hour by December 2008.
Work is also underway to improve station accessibility, with the inner suburban stations to be 'accessible for everyone' by the end of this summer.
Commuting further
Ireland is a relatively sparsely populated country beyond Dublin, and the cities are small. As a result, commuting is found primarily around the capital. Massive demand for housing in Dublin means that people working in the city are living increasingly far out. Daily commuters are now travelling from growing satellite towns up to 80 km from the capital, something almost unknown a decade ago.
The acquisition of more rolling stock is 'the quickest thing you can do to increase capacity', says Fearn, and IÉ is 'doing this very effectively.' In 2003-04 it took delivery of 20 four-car DMUs for outer suburban services, and another 36 cars will arrive this year. The diesel units are maintained in a €41m purpose-built depot at Drogheda, 50 km north of Dublin, which opened in 2003. All the stock is bought on an own, operate and maintain basis, though outside suppliers carry out jobs such as emergency window repairs.
The DMUs provide longer-distance commuter services from Dublin, serving stations to Maynooth and Mullingar from Connolly and Kildare and Portlaoise from Heuston. From these towns, and to a lesser extent beyond, people are also commuting into Dublin on the longdistance inter-city trains.
There is a limit to what can be achieved solely through new trains, and Fearn says 'new infrastructure is essential' to handle this growth in outer-suburban traffic. A major constraint is on the approaches to Heuston station, where local and longdistance trains must share one of just two double track main lines in Ireland (the other is Dublin – Belfast). IÉ is looking at upgrading the route to four tracks, 'a luxury that no-one here has enjoyed before, and we need it', says Fearn. 'The city is growing, and we have to do these things'.
The Interconnector
Getting more trains into Dublin during the morning peak is just part of the problem. The stock must go somewhere after disgorging the passengers, and this is driving IÉ's biggest project, the Interconnector. A new railway link is proposed which would run underground from the current terminus at Heuston, through a new station under St Stephen's Green in the heart of the city, and then looping through the docklands development zone to join the existing line north of Connolly.
'Neither Connolly nor Heuston are in the real city centre, which we don't directly serve, but the Interconnector will go right underneath, giving us direct access to the real centre', Fearn explains. It will provide an outlet for trains arriving in Dublin during the morning peak. 'As Thameslink proved in London, a through railway can lift far more people than one that terminates.' People will be commuting into Dublin from both ends of the through route, so 'the trains will always be full'.
In the east of the city the Interconnector will provide new capacity away from DART. 'Passengers want more trains, and they want more capacity on those trains, but we can't physically get them into Connolly station. Once we have the Interconnector under the city centre we won't have the trains in Connolly at all. It's a big chunk of extra infrastructure capacity.'
The fourth benefit is that 'it will expand our electrified railway. You don't run diesels under a city centre like this. The Interconnector would cause further electrification, and that of itself would give the advantages of higher frequencies and shorter stops. The Interconnector is a huge prize for us, both in customer benefits and technical terms.'
Feasibility studies have put the cost at €1·3bn, including connections to existing lines but excluding electrification and new rolling stock. Fearn believes that if investment continues at current levels the Interconnector could be in place by 2012-13. He is optimistic about getting the go-ahead, and 'we understand the government are supportive'. Inter-city is exciting
'As a newcomer to IÉ, inter-city is particularly exciting', says Fearn. 'The commuter traffic is just there, and if we do well, it will come to us. There are 1 200 people on an eight-car suburban train, and more want to get on', but 'inter-city is not like that, growth is not a given. This is a market we've got to go out and win.'
'You can fly from Dublin to Cork, you can drive, or you can catch a train. We want to make it the first choice for passengers to get a train, and we will do it by the tried and tested principles of inter-city; we'll go more frequently, and we'll go faster.'
'It isn't worth us spending billions on a TGV network, the population and the state aren't big enough. But we have got a good rail network from Dublin to the cities and provincial towns.' The 1 600 mm gauge track and the signals have been upgraded on most of the passenger network to give 'decent line speeds' with work underway 'to fill in the gaps'.
In 2002 IÉ placed an €117m order with CAF for 67 coaches for use on Dublin – Cork services. These will arrive in Ireland later this year, and airconditioned MkIII stock dating from the 1980s will be cascaded to other lines.
Partly funded through the government's National Development Plan, the CAF coaches will be hauled by the Class 201 GM-EMD locos dating from 1994-95, and will run at up to 160 km/h on the Cork route. They will be formed into eight push-pull sets of eight vehicles, with three spare cars. Seven sets will be in service at one time, with one undergoing maintenance.
On January 31 this year Transport Minister Martin Cullen announced a €262m National Development Plan funded order for 10 six-car and 20-three car DMUs, to be supplied by Mitsui. The 160 km/h units are being built by Tokyu Car Corp and Rotem, and from 2007-08 they will operate services from Dublin to Westport/Ballina, Galway, Limerick/Ennis and Waterford, and the Cork – Mallow – Tralee shuttles.
'We are going to have an inter-city network you can genuinely call one. With the inter-city coaches and DMUs on order we will be able to see a significant stepup in frequency and thus capacity. In just the same way as the launch of DART gave a completely different perception of inner-suburban transport in 1984, our new inter-city rolling stock and service is going to give a perception of a completely different railway', Fearn predicts. 'Because the frequency hasn't been great there has been quite severe overcrowding, but the new trains will be more frequent, as well as fully reservable.'
At present there are eight direct Dublin – Cork trains each day, with gaps in the service. From 2006 'we're going to go hourly all through the day, early morning to mid to late evening. If you look at our timetables you won't see many clockface times, because of the need to make best use of rolling stock, but the orders for new trains will allow this to change.'
Limerick will get an hourly service, while Galway, Sligo and Waterford will receive a train every two hours, with extra trains to provide more capacity during the peaks. The lines to Sligo, Waterford and Galway are mostly single track, and an hourly service would not be resilient. DMU shuttles will connect with the inter-city trains at Athlone for Westport and Mallow for Tralee.
Fearn is expecting substantial growth in traffic from the investment, even though the business case for the government and EU to invest in the new rolling stock was based on 'quite modest' 5% annual growth. 'We are not doing this hoping for the revenue, we are doing it on the basis of efficiency', he says, but 'latent demand is there' and this growth could be doubled or trebled for the first two to three years.
Northern Ireland Railways has proposed increasing the Dublin – Belfast Enterprise services to run hourly. This would require the acquisition of additional rolling stock, and according to Fearn IÉ will be happy to participate in an increase in services if a business case can be developed.
Regional future
'The previous Transport Minister Seamus Brennan said that we don't close railways now; that is not part of our philosophy. So we have to make better use of them.' Small-scale improvements are being made on the rural routes, with modest resources. Two-car DMUs, maintained in Limerick, have replaced loco-hauled trains.
'Every opportunity' is being taken so that rail can be 'seen to play a bigger part' in regional transport. 'There is enough critical mass to make it worthwhile in Cork, and it is becoming that way in Limerick. It is a little bit off in Galway, but I can see it happening. It is nice that people are looking to us and saying that we can play a part in this.'
There are now 'modest levels' of commuting on the line between Cobh and Cork, and a €90m project is in hand to reopen to passengers the mothballed Cork – Youghal freight line as far as Midleton by 2007 (RG 7.04 p390). This includes expanding commuter services beyond Cork to Mallow, providing a double-ended route bringing commuters into the state's second city. The region's population is growing fast, and the line is expected to be self-financing by 2013.
The branch line from the regionally-important city of Limerick to Ennis is now 'doing very nicely'. Until 2003 it had a token service of two loco-hauled trains per day, but since modernisation and the introduction of a two-car DMU shuttle, traffic has seen 'nice steady growth'.
Across the country Fearn sees there is 'more we can do on that basis. Even Galway, Limerick and Waterford have road congestion now.' There are 50 to 70 people commuting on the Rosslare – Waterford route, 'small numbers, but relevant to the communities served.' But this 'pales into insignificance compared to the growth in Dublin', and so IÉ must 'concentrate efforts where the real business is, in DART expansion and commuter expansion.'
Rosslare Europort is thriving. 'We own it, and it is a profitable venture. But it is a roll-on roll-off port, not a walk-on passenger port. The boat train concept is dead, people do not do walk-on and walk-off ferries any more.' However there is 'quite a business' with people driving to Holyhead in Wales and taking the high-speed ferry to Dun Laoghaire for a day trip to Ireland, and ferry operator Stena Line sells add-on tickets for DART services from Dun Laoghaire to Dublin.
Still in freight
'We have substantial subvention for the passenger railway against a service level agreement, but we don't have subvention for freight; it has to cover its own costs', says Fearn.
'Some of the freight business is lossmaking, and we are trying to charge a price for that business which enables us to cover our costs and make a bit of a margin, otherwise we can't carry it. We've lost some distribution traffic because we just can't carry it profitably, but there is freight which is very good business for us, where we've got growth and we really can make it worthwhile.'
:'We don't do palletised cement any more, but we have big bulk contracts with Irish Cement.' IÉ runs three daily trainloads of bulk zinc ore from the mines at Tara to Dublin port, and 'they would like us to do more. We're trying to see how we can run the logistics.' Timber traffic from the Forest Service goes to Waterford from Sligo, Westport, Ballina and Ennis. 'It is heavy, we can do it well compared to road, and it is dealt with at terminals by the customer, so we only do the heavy lift. It is growing, it is good volumes, and we know there is more we can do.'
Sugar beet traffic amounts to 150- 200 000 tonnes/season, an important tonnage with significant scope for expansion, but it is seasonal traffic, requiring careful use of resources. The beet is moved by rail from a collection point at Wellingtonbridge on the Waterford – Rosslare line to a refinery at Mallow. Irish Sugar's other refinery at Carlow closed earlier this year, increasing the demand for traffic to Mallow. As well as increasing traffic at Wellingtonbridge 'we're going to need another terminal somewhere in the Carlow catchment area.' The beet season is widening, which is good news for IÉ as it can improve the use of resources and track capacity.
Integration
Iarnród Éireann is a subsidiary of Córas Iompair Éireann, the transport holding company which includes Dublin Bus and national bus operator Bus Éireann.
'The government is very comfortable with state ownership of IÉ, and very comfortable with a vertically-integrated railway,' according to Fearn. 'As COO I'm happy to be running a verticallyintegrated railway.'
Before joining IÉ two years ago, Fearn worked for British Rail's South Eastern business, its franchised successor Connex South Eastern and infrastructure manager Railtrack. 'I've seen the split railway from both the operating and infrastructure sides, and I've worked for a vertically-integrated railway. I have to say, particularly in a railway undergoing so much expansion and investment, it is a great advantage to be working in a vertically-integrated environment. I can work alongside the director of new works and dovetail everything we do as colleagues. I feel that I have the levers I need to pull, and I can pull them all in the right order.'
The future is bright for Iarnród Éireann. 'No longer should anyone say that this is a backwater; the word is completely irrelevant!'