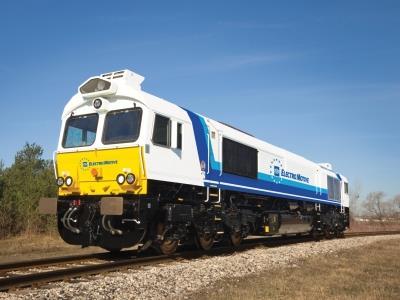 FRANCE: Electro-Motive Diesel announced on June 20 that it had delivered seven Class 77 locomotives to the SNCF Geodis subsidiary Akiem, who will lease them to local operator Voies Ferrées Locales et Industrielles for use on heavy freight trains in northern France.
Facilitated through a financing package arranged by Bank of America, the deal is the first order for new EMD locomotives by SNCF Geodis, although the company acquired several Class 66s through various mergers and takeovers within its Captrain business unit.
EMD's after-sales service business Electro-Motive Diesel Services International has also signed a contract with Akiem to maintain both its new and older EMD locomotives.
Designated JT42CWRM-100 by the manufacturer, the Class 77 is a modified version of the successful Class 66, with DC traction motors, rated at 3 300 hp; it is certified for operation in France, Germany and Belgium. The Class 77 has an enhanced gear case which increases its tractive effort to 450 kN, making the locomotive suitable for heavy trains. It is powered by a 12-cylinder 710 engine that meets EU Stage IIIA emissions regulations, and has the latest EM2000 control system.
Glen Lehmann, Chief Marketing Officer for EMD's international operations, said the company was 'confident that Akiem and VFLI will be very pleased with the performance of these locomotives, and we look forward to a long-term relationship'. Akiem CEO Fabien Rochefort said the two contracts with EMD and EMSI marked 'a new step in Akiem's developments', demonstrating to the market Akiem's ability to offer a broad range of modern locomotives for lease, and development of services in partnership with local maintainers.
Established in 2008, Akiem now has a fleet of over 300 new and refurbished locos in use throughout Europe, with revenues of more than €100m. The company is working to achieve full certification as Entity in Charge of Maintenance during 2012.