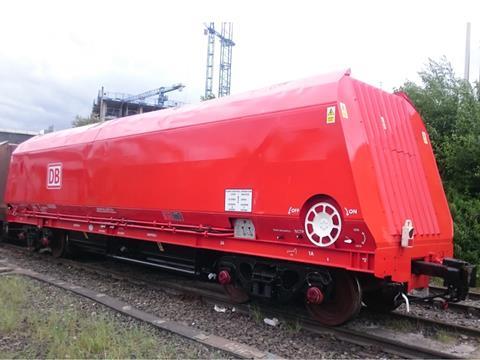 UK: DB Cargo UK is working with its subsidiary Axiom Rail and WH Davis to convert 110 Type HTA coal hopper wagons into HRA aggregate hoppers to accommodate expected future growth in this sector. Completion of the conversion programme is planned for the third quarter of 2018.
This follows a five-month trial with a prototype HRA wagon which operated between quarries at Peak Forest in Derbyshire and the Hope Street terminal in Salford.
Conversion involves removing one of the coal hopper bays, reducing the length of the wagon by 20% from 17·8 m to 14·3 m. The gross weight each wagon can carry remains the same at 101·6 tonnes. This shortening enables an increase in the number of wagons per train, with a rake of 27 HRA wagons offering a payload that is 447 tonnes greater than a rake of 22 HTA wagons.
'The demand for coal transportation has decreased significantly in recent years, and DB Cargo UK had a large fleet of HTA coal hopper wagons', said Jonathan Lowden, Head of Rolling Stock at DB Cargo UK. 'To find a future use for our assets in an alternative market, our production team worked in collaboration with Axiom Rail and WH Davis to find a solution to convert these wagons to class-leading aggregate hoppers.'