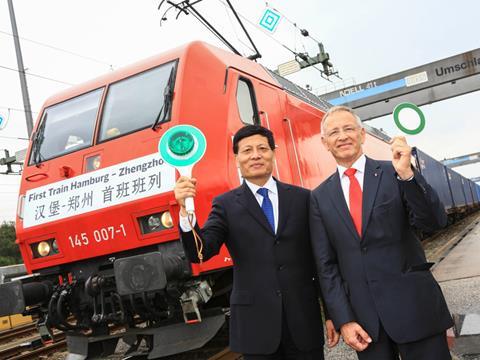 INTERNATIONAL: DB Schenker and the Port Authority of Zhengzhou launched the first freight train from Hamburg to the Chinese city on September 1. This complements a weekly service from Zhengzhou to Hamburg which was launched in August 2013.
'We are proud that from today, Hamburg is not only a destination but also a starting point for goods exchange with China by rail', said Hamburg city councillor Dr Bernd Egert.
The multi-customer train is carrying goods including industrial robots in 41 containers. It is scheduled to take around 17 days for the for the 10 214 km journey via Poland, Belarus, Russia and Kazakhstan, about 20 days faster than by sea.
DB Schenker has been running weekly block trains between China and Germany since 2011, carrying 40 000 TEU in 2012-14. Most of the customers are from the automotive and electronics industries.