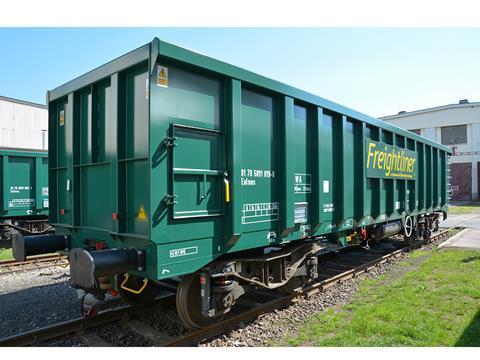 UK: Freightliner has taken delivery of the first of 64 open wagons which are being built by Greenbrier Europe using bogies and brake components recovered from coal hoppers made redundant as a result of the decline in coal traffic.
Freightliner Heavy Haul needed a fleet of high capacity box wagons for a new contract to haul construction materials for Tarmac, and decided to investigate the possibility of using recycled parts from redundant Type HHA 102 tonne coal hoppers. With assistance from engineering consultancy SNC Lavalin, Freightliner and Greenbrier Europe identified that with some modifications the bogies and some of the braking equipment would be compatible with an existing design of Greenbrier box wagon.
Freightliner Maintenance Ltd in York undertook the recovery and modification of the bogies, which were transported by Freightliner Road Services to the Greenbrier Europe factory in Poland. The completed Type MWA 102 tonne open box wagons were then delivered to the UK by Freightliner Poland.
On June 6 Freightliner announced that the first 23 wagons had arrived in the UK, with the remaining 41 expected to be delivered by July. The final 10 of the 64 wagons will have recycled braking components, but new bogies.
'Modern, efficient wagons have an important role to play as we drive freight expansion and increase the transport of materials from production sites to construction markets', said Chris Swan, Senior Manager, Rail & Shipping at Tarmac. 'It's good to see equipment and materials being repurposed, especially as this is a key part of Tarmac's approach to sustainability and business.'