Since moving into the private sector in 1996, Freightliner has reshaped its intermodal business and expanded into coal and other bulk cargo. Murray Hughes talked to Chief Executive Alan Galley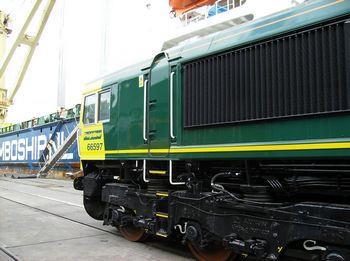 'THAT'S A monster question', responds Alan Galley, Chief Executive of Freightliner, to a request for his assessment of the company's growth prospects in the next five years. A fair one nonetheless, given that Freightliner has shot to prominence in the last two years thanks largely to the rapid expansion of its coal business. The company's first coal train ran in December 2000 and it has now run over 10000 trains, with annual coal carryings nudging the 5·5 million tonnes mark in 2002-03.
'My priority is to develop a strong business for the long term', continues Galley, 'and therefore the focus is not necessarily aligned to short-term growth.' Despite that 'there has been significant growth in the business since privatisation, with turnover more than doubled in seven years'. A management buy-out by Management Consortium Bid Ltd took over the business in 1996, and Galley refers to the long process of privatisation when 'uncertainty was created for some time - nobody knew what Freightliner would look like'. After privatisation, this pent-up demand was released by 'getting close to customers and by rational organisation, with service quality as our watchword.'
Dramatic growth of 40% to 50% during the first five years in the private sector slowed with the market to around 5% to 7% a year, subject to 'a few hiccups' such as the Asian economic downtown. 'We are dependent on world trade, and with a container moving from Hong Kong to Manchester, our bit is just from Felixstowe to Manchester, and we found we caught a cold.'
This was one reason why Freightliner decided to diversify. After five years as an independent company, Freightliner Ltd had moved 3 million containers and turned over £500m - but the profit was zero (Fig 1). The company investigated other markets, and in June 1999 it signed a seven-year contract to haul infrastructure materials for Railtrack. This enabled the company to lease dedicated heavy-haul locomotives. From this basis the company went on to win Blue Circle cement traffic in 2000, and then to enter the coal market.
This growing diversification was formally recognised in 2001 when it set up two separate operating companies, Freightliner Ltd to handle intermodal and Freightliner Heavy Haul Ltd for bulk freight.
While tonnages are tiny compared with the heavy haul operators in Australia, North America and elsewhere, FHH has expanded rapidly in the coal market, transforming Freightliner's commercial profile. Pre-empting suggestions that the company has merely taken traffic from EWS, its largest competitor, Galley says 'I think we have expanded the coal market, which was under-supplied. Not all traffic on offer could be moved, and we may have made it possible to move more.'
While significant expansion of rail-hauled coal looks unlikely in the short term, Galley believes that 'demand for coal in the next 10 to 15 years will remain strong', not least because nuclear power stations are being decommissioned.
Galley is proud that using train crews as the day-to-day contacts for coal customers has been helpful in terms of service quality. 'It has met with generous approval', he says, 'as our customers for once felt that they were being kept in touch.' He suggests that reliable deliveries have allowed power station operators to review their stockpile policies 'where there is a lot of money on the ground', so that they are able 'to be less reliant on huge stocks'.
Intermodal restructuring
But diversifying was not enough. Galley says the core intermodal business was reorganised in 2002 from a hub-and-spoke network centred on Crewe to a 'point-to-point network of direct trains between ports and terminals'. In 1996 Freightliner carried 462000 boxes, but in 2002-03 the figure reached 580000. 'There is still growth potential', says Galley, 'because of the underlying growth in world trade, but it is less than 5% a year now and where we can attack the market depends on where the boxes land.'
A major constraint is the limited number of routes able to accept 9ft 6in high containers on standard flat wagons. This is a major concern 'as the shipping community is increasingly moving to 9ft 6in', which means that Freightliner's share of the potential market is in decline. 'I can't sit here with a declining market', warns Galley, who is keen to advocate the benefits of moving to a larger loading gauge. 'We have an interim solution with low-platform wagons, but this is not totally satisfactory, mainly because we can only carry one 40ft box on each wagon', he says.
On the near horizon is conversion of the Felixstowe - Wembley route to W10 gauge to accommodate the larger boxes, and Galley confirms this work is due for completion by October 2004. But access to the northeast and other regions from Felixstowe remains a problem that the company is addressing - 'we are in negotiation at the moment' is all that Galley will say.
Meanwhile, FHH is building traffic in the automotive, cement, petrochemicals and household waste markets. Aggregates is another important market segment, and FHH has just completed a contract to haul ballast from the Isle of Grain to the Channel Tunnel Rail Link Section 1 tracklaying base at Beechbrook Farm near Ashford. More recently, it has secured a flow of 1·2 million tonnes of blast furnace slag from Port Clarence on Teeside to East Anglia over the next four years.
A recent change in tax laws on primary aggregates is encouraging use of secondary products for road building and similar projects. It was this change that prompted Alfred McAlpine Slate Ltd to ask Freightliner to haul slate waste along the branch line from Blaenau Ffestiniog in North Wales to Llandudno Junction and thence to the Midlands and northwest. The proposal envisaged around 2 million tonnes of waste a year being railed out, but it ran into serious trouble when Network Rail quoted a price of £230m to upgrade the 43 km line, this for operating 25 to 30 trains a week of just 13 wagons, with each train carrying around 800 tonnes. Unsurprisingly, this provoked outrage among freight operators.
Galley described NR's price as 'horrific, outrageous - it took our breath away. This demonstrates the lack of touch or feel for the size and scale of the problem. It makes you believe these people are not really serious about wanting to help develop anything ... but the size of their error is coming home to roost.' Galley believes the episode is damaging as 'it drags the industry into areas where people can't trust us'.
Negotiations on the cost of upgrading are still in hand, and Galley believes that the project will ultimately go ahead, hopefully with the cost of upgrading contained to between £11m and £15m.
Expansion triggers orders
To handle growing traffic Freightliner has expanded its motive power and wagon fleets. It took delivery of its first Class 66 freight locomotive from GM-EMD in 1999 and now has 77 in service, a further 12 on order, plus two more undergoing emissions tests in Mexico. Orders have been placed for nine more, and yet other orders may follow.
Coal is carried in a leased fleet of Type HHA four-axle galvanised steel hoppers built in 2000 and 2001 by Greenbrier's Wagony Swidnica plant in Poland. Fitted with track-friendly bogies from Powell Duffryn and able to run at 120 km/h, these are marshalled into 19 rakes of 17 wagons, each with a payload of 74 tonnes.
The company has just taken delivery of the first of 400 intermodal wagons built by the Polish supplier, and 86 are in service. 'They are already finding great favour with my people and are working well', comments Galley. The fleet is being built to a standard design, but variation orders are possible if the market changes towards the end of the build. Some of the fleet will replace flat wagons built for Freightliner when it was part of British Rail, and others are intended to cater for growth.
Into profit
In financial terms, major progress was made in the year ended March 31 2003 (Table I). Group turnover includes grant revenue from the Strategic Rail Authority of £16·2m in 2002-03, up slightly from £15·7m in 2001-02. Galley explains that grants were negotiated for five years at privatisation to encourage transfer of freight from road to rail, and an interim agreement was signed in 2001 to extend the grant to May 2004.
In the meantime the SRA has decided to introduce 'company-neutral' grants to shippers rather than operators, and Galley says this will start in spring 2004. When this scheme is operational, Freightliner's existing grants will cease. Galley comments that 'it is generally recognised that it's a competitive business, and you have to be a price-taker rather than a price-maker, offering at least an equal price to your competitors [in road haulage]. To do that you need some support. The prices do not support the track access charges Network Rail needs to carry general freight, although this is less the case now than at privatisation as access charges have been reduced.'
Freightliner's competitor EWS currently enjoys exclusive status in running freight through the Channel Tunnel. Freightliner has looked at the opportunities presented by the possible opening up of the Tunnel to other operators, but Galley 'believes that the complexity of running trains across Europe does not enable an operator to deliver customer service as he has no control over what goes on.'
On the other hand, Galley would 'be happy to talk as a subcontractor' for hauling international freight within the UK - perhaps a hint that it would be willing to work with Eurotunnel in its plans to become a European open-access
Freightliner financial performance
2002-03 2001-02
Turnover £m 185·8 167·5
Operating costs £m 172·1 159·4
Pre-tax profit £m 10·8 4·4
Profit after tax £m 8·7 3·0