With four groups prequalified for the Saudi Landbridge, interest is growing in the planned high speed link from Makkah to Jeddah and Madinah. Plans call for 300 km/h trains to run up to six times an hour between Jeddah and Makkah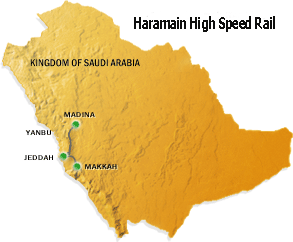 EVERY YEAR millions of Muslim pilgrims converge on the Holy City of Makkah in Saudi Arabia to perform the rituals of Hajj and Umrah. Many also visit Madinah, Islam's second most holy city.
Forecasts suggest that the number of Hajj and Umrah visitors will rise steadily from the present total of 20 million a year, with 30 million reached by 2010. This explains why the Saudi government is putting plans in place to build a high speed railway linking the two cities, with around 50% of visitors expected to take advantage of the service. During Ramadan alone the region must accommodate 2 million Umrah pilgrims.
The line will also serve Jeddah, where King Abdul Aziz International Airport is a major gateway for pilgrims visiting the Kingdom. Jeddah is also a major port at the western end of the Landbridge.
The Makkah - Madinah Rail Link project has been conceived as a public-private partnership in the form of a long-term Design-Finance-Build-Operate-Transfer concession, with land provided at no charge by the Saudi government.
The project enjoys the formal backing of the Saudi government through the Supreme Economic Council, and arguments marshalled in its favour include reducing traffic congestion on the main road linking the three cities and within the urban areas of Makkah and Madinah. A cleaner environment thanks to fewer emissions is anticipated, together with a reduction in road accidents and 'substantial social and economic benefits'.
Saudi Railways Organisation, whose President Eng Khalid Alyahya is Chairman of the Inter-ministerial Steering Committee supervising the project, says that 'huge potential' exists for investment in and around the planned stations. Not only that, but commuter traffic in both cities is rising rapidly - the combined population of Makkah, Madinah and Jeddah is around 5 million, with 2·8 million in Jeddah alone.
Alyahya pointed out at a presentation in London on June 22 that the Saudi government wishes to capture the benefits of private-sector efficiency and to achieve value for money and innovation through competition, with private-sector expertise pooled to obtain the best performance.
Route studies
Preliminary studies have already been completed, and a tentative alignment puts the distance from Makkah to Madinah via Rabigh and Jeddah at 444 km - ideal for a high speed railway. Provisional timings suggest that trains would take around 3h end-to-end, although most trains would run over the 72 km section between Jeddah and Makkah; journey time for this trip would be just 30min.
Four options have been defined between Madinah and Rabigh, where a station would be sited to serve the King Abdullah Economic City development. From Rabigh to Jeddah the alignment would follow the coastal highway, while three options cover the section from Jeddah to Makkah.
The Madinah terminus would be located about 3 km from the Masjid Alnabawi Holy Mosque, while the Holy Mosque in Makkah would be just 500m from the proposed terminal. A second station is also planned to serve Makkah's universities and business sites. Makkah 2 would lie close to the third ring road about 4 km from the terminus .
Two stations are also proposed in Jeddah. One would be close to the city centre on the site of the old airport, and a second would serve King Abdul Aziz International Airport, ensuring that pilgrims arriving by air have direct access to the trains.
Given that large numbers of passengers would need to be handled during the peak Hajj and Ramadan periods, as well as on Fridays, the Muslim day of prayer, much attention is being given to the best methods of handling crowds. Passenger flows are to be modelled and entry and exit controls are envisaged to reduce overcrowding.
Signalling equipment is to be designed to cope with trains operating at 5min intervals between Jeddah and Makkah, although a 10min interval service is considered adequate to cope with peak flows in the foreseeable future. Hourly trains would operate between Jeddah and Madinah, with a few through services operating between Makkah and Madinah.
The route will be electrified throughout at 25 kV, with double track between Jeddah and Makkah and a single track with some double-track sections running north of Jeddah to Madinah. The alignment climbs steadily on this section, reaching an elevation of 700m above sea level at its highest point; steepest gradient will be 3·5%. The proposed minimum curve radius will be 4500m or 5000m, except in the Jeddah-Rabigh area and in the built-up districts of the two other cities where 500m may be permitted. About 18 km of the route would run in tunnel in the Jeddah region, and about 15 km would be located on elevated sections, bridges or viaducts.
Following a project day held in Jeddah on May 23, SRO is proceeding with the prequalification process. SRO says that a typical consortium would include a 'high speed technology provider' as a leader, a rail operator and 'world-class' civil and electro-mechanical contractors.
UBS Investment Bank, the National Commercial Bank and SNCF International have been retained to provide financial and technical advice. Linklaters and the Law Office of Abdulaziz H Fahad are providing legal advisory services.