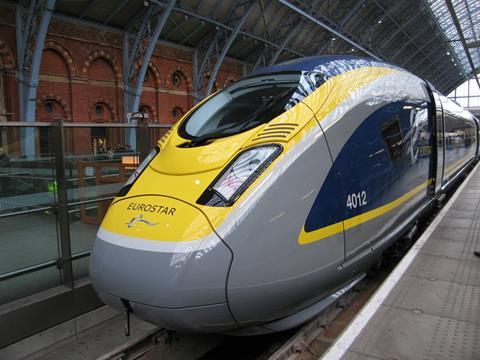 EUROPE: Cross-Channel high speed train operator Eurostar is to reduce the number of services it operates by 8% and intends to cut 80 jobs.
'This is a challenging environment for all travel companies and we need to manage our costs very carefully', Eurostar told Railway Gazette. 'That's why we are looking at the size and shape of our business. We are committed to minimising the impact of these changes on our colleagues and our current focus is on managing any reductions through voluntary redundancies and sabbaticals as much as possible.'
The Transport Salaried Staffs' Association trade union said the cuts followed a 'severe reduction in passenger numbers and revenue' in 2016, which had led to the Eurostar 'significantly reducing costs in other areas' before announcing the job losses.
Eurostar had reported in August that passenger numbers in Q2 2016 were down 3% on Q2 2015 to 2·7 million, with sales revenues 10% lower at £208m. CEO Nicolas Petrovic attributed this to terrorism, uncertainly arising from the UK vote to leave the European Union, and a slowdown in traffic from world markets.
Eurostar told Railway Gazette that another factor in the cuts was the delivery of the Siemens Velaro e320 trainsets, which have more seats than the original fleet meeting the same capacity can be provided with fewer services. So far 11 of the 17 Siemens trains have been delivered. A programme to refurbish the original Class 373 trainsets continues, with the third refurbished e300 expected to return to service shortly, but Eurostar is still deciding how many trainsets would be refurbished in total.
The job losses are to affect onboard and station staff, the Times House headquarters in London, Temple Mills maintenance depot and the Eurostar Contact Centre. TSSA has agreed to a period when staff can express interest in voluntary severance, except at Times House where specific individual roles will be identified.