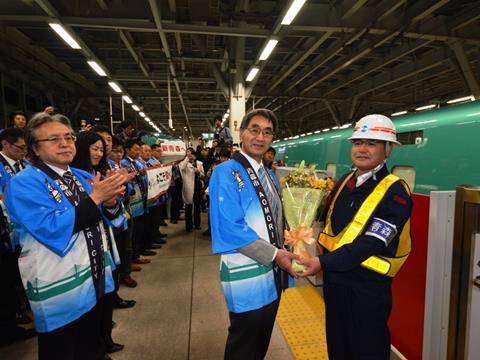 JAPAN: The mayor of Aomori and other city officials participated in a ceremony at Shin-Aomori in the early hours of May 24 to mark the arrival of the first Series H5 trainset from Hokkaido through the Seikan Tunnel.
Following the delivery of the first unit to JR Hokkaido in October 2014, the Series H5 trainsets are now on test ahead of the start of commercial services in December 2016.
Able to carry up to 731 passengers, the four 10-car Series H5 units are the same as the JR East Series E5 sets. They have full active suspensions, and are designed to run at up to 320 km/h on the Tohoku Shinkansen. The Series H5 and E5 sets will be used in a pool to operate through trains over the 829 km route between Tokyo, Shin-Aomori and Hakodate.
Tracklaying on the 148·9 km first phase of the Hokkaido Shinkansen from Shin-Aomori to Hakodate was officially completed in November 1 last year, including the commissioning of dual-gauge tracks through the Seikan Tunnel. Maximum speed on this section will be 260 km/h, although the trains will be limited to 140 km/h through the tunnel.