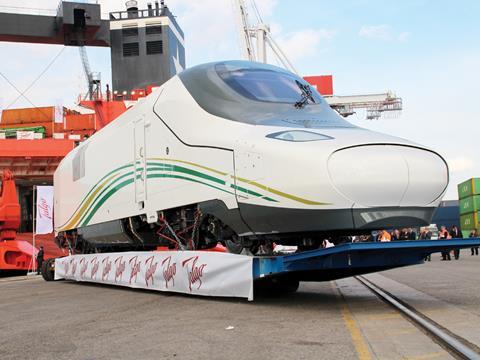 SAUDI ARABIA: Saudi Railways Organization has awarded Talgo a contract worth in excess of $200m to supply six 200 km/h diesel trainsets for use on the 480 km Riyadh – Dammam line. In conjunction with infrastructure upgrades the trainsets are expected to cut journey times from 4 h 20 min to 3 h.
The trainsets will be similar to the Talgo 350 sets being supplied for the Haramain High Speed Rail project, but will be diesel-electric rather than electric. They will incorporate the 'desert package' developed by Talgo for the Haramain project, which includes additional sealing, window protection and enhanced paint and coatings to protect against abrasive sand and temperatures of 55°C.
Announcing the order on March 16, Talgo pointed out that the diesel trainsets would be suitable for use on the planned Gulf Co-operation Council railway network. Talgo President Carlos de Palacio said the SRO order could serve 'as acknowledgement of our technology and a display that will open a whole new range of opportunities' in the Gulf region.
'This new contract will strengthen commercial relations with Saudi Arabia and will open the doors for Talgo's new projects', said de Palacio. 'Unquestionably, both our technology and good relations established with the Makkah – Madinah project have proven to be critical.'