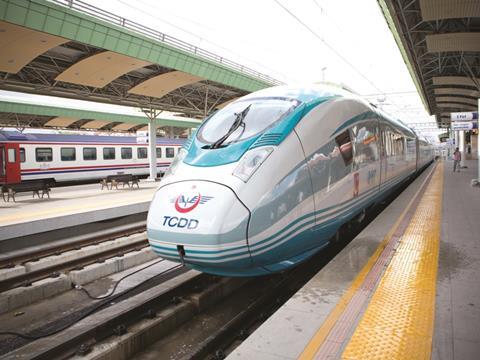 TURKEY: State railway operator TCDD has selected Siemens to supply a further 10 Velaro TR high speed trainsets, the company confirmed on February 18. Subject to any legal challenges from other bidders, the contract is expected to be signed shortly.
Having bought the former Velaro D demonstrator and then ordered six more Velaro trainsets in July 2013, TCDD called tenders by May 2014 for an additional 10 eight-car trainsets to augment its limited fleet of high speed trains operating between Ankara, Konya, Eskisehir and Istanbul.
Total value of the contracts covering the first seven sets was put at €285m, including seven years of maintenance by the manufacturer. With the first unit already on trial in Turkey, the other six are now under construction at Krefeld, and due for delivery by 2016.
The additional 10 would follow on from 2017, providing continuity of work at the German assembly plant. The latest deal has been valued at around €400m, including three years of maintenance and the supply of spare parts.
Designed for 300 km/h operation under 25 kV 50 Hz, the Velaro TR is the latest variant in Siemens' high speed train family. Rated at 8 MW, the trains have seats for 516 passengers, compared with 460 in the Velaro D from which they are derived.