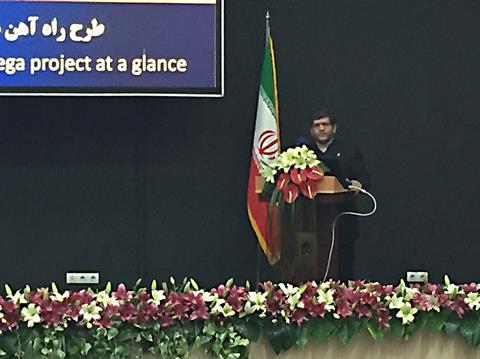 IRAN: The Tehran – Esfahan high speed railway, which is expected to carry passengers in 2021, will be built to European TSI standards, according to national railway RAI's Project Director Dr Jabar Ali Zakeri.

The 410 km route will be designed for 250 km/h operation, and is being delivered in two phases. This reflects the staggered approval of the project by the Iranian government; preparatory works on the southern section between Qom and Esfahan began in 2010, while the northern route between Qom and the capital is still at an early stage of preparatory works.

RAI has appointed a Chinese consortium led by China Railway Engineering Corp to undertake civil works, and Zakeri told Railway Gazette International in Tehran on May 17 that the contractor has completed two-thirds of the substructure of the Qom – Esfahan section.

RAI has also appointed Italian consultancy Italferr, a subsidiary of national railway holding company FS, in a supervisory role until at least the end of 2016. Included in its remit is the task of ensuring the Chinese teams comply with European TSIs and other technical standards.

'We are in the final stages of negotiations with our Chinese partners', Zakeri said. 'We hope to work together to find common ground to ensure that this railway is interoperable with the future extensions and new lines we have planned.'

The public transport market between Tehran and Esfahan is currently dominated by long-distance bus services, with just two passenger trains linking the cities each day. The high speed line would reduce the rail journey time from around 7 h to 2 h, RAI says.

A more detailed outline of the Tehran – Esfahan project and RAI's wider high speed programme will appear in the July issue of Railway Gazette International, along with an exclusive interview with RAI President Dr Mohsed Pourseyed Aghaei.