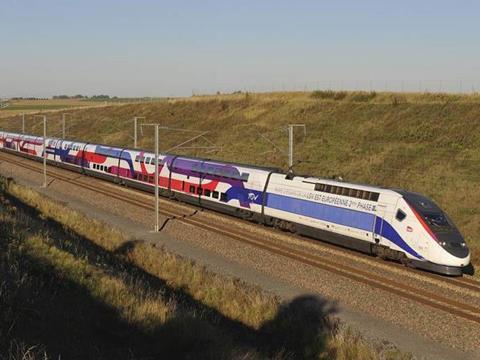 FRANCE: National operator SNCF has started test running on the second phase of LGV Est Européan. An instrumented EuroDuplex TGV decked out in a commemorative livery began running over the new section of the route on the morning of September 28.
Running for 106 km between the end of Phase 1 at Baudrecourt and Vendenheim on the outskirts of Strasbourg, the €2bn second phase of the high speed line has been under construction since 2010. Tracklaying was completed in March.
According to infrastructure manager SNCF Réseau, around 200 test runs are planned to verify the infrastructure characteristics of the new line and its various connecting links. The instrumented trainset will be running at up to 352 km/h – the specified 10% test margin above the maximum operating speed of 320 km/h.
Accelerometers on the train will assess vertical, longitudinal and transverse acceleration to ensure a smooth ride, while further instruments will check the overhead line and pantograph performance. The radio communications, TVM430 and ETCS Level 2 signalling must also be checked.
Subject to final authorisation by national safety authority EPSF, Phase 2 is scheduled to open for revenue service on April 3 2016. This will see the fastest Paris – Strasbourg journey time cut by 30 min to 1 h 48 min. Reflecting funding contributions from the European Union and Luxembourg, regional high speed services will connect Luxembourg and Strasbourg via Thionville and Metz in 1 h 36 min.