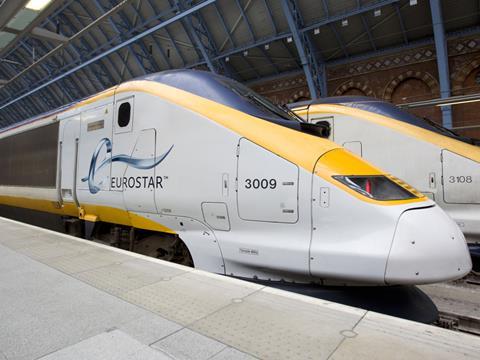 EUROPE: The British government announced an agreement to sell its entire stake in Eurostar International Ltd for £757·1m on March 4.
Eurostar International owns the UK's 40% stake in the cross-Channel high speed train operator, with France's state-owned train operator SNCF holding 55% and its Belgian counterpart SNCB the remaining 5%.
The UK's 40% stake is to be sold for £585·1m to Patina Rail, a consortium of Caisse de dépôt et placement du Québec which would own 30% of Eurostar and Hermes Infrastructure which would own 10%. Eurostar has also agreed to redeem the UK government's preference share on the closure of the sale, raising a further £172m.
The Treasury said the government's key objective in the sale was to 'maximise value for money for the UK taxpayer', and 'this has been achieved' with a price 'significantly ahead of expectations, reflecting the high quality nature of the asset'.
The transaction is expected to close in the second quarter of 2015, subject to regulatory approval and SNCF and SNCB not exercising pre-emption rights which enable them to acquire the UK stake at a 15% premium on the agreed price of £585·1m.
CDPQ is a long-term institutional investor that manages funds primarily for 33 public and para-public pension and insurance plans, with assets of C$226bn. 'Today we are investing in one of Europe's most efficient inter-city transport systems', said Macky Tall, Senior Vice-President, Private Equity & Infrastructure. 'Alongside leading industry players, we are becoming partners of a highly strategic asset that will generate stable and predictable returns for our clients. This major investment is another opportunity for us to further build on our expertise in the transport sector, while broadening our footprint in the global marketplace.'
Peter Hofbauer, head of UK-based Hermes Infrastructure which manages £3bn of investments, said Eurostar 'has historically offered attractive investment characteristics, including long-term stable and predictable cash flows. We look forward to creating a long-term partnership with SNCF and SNCB and other key stakeholders in relation to this important investment.'