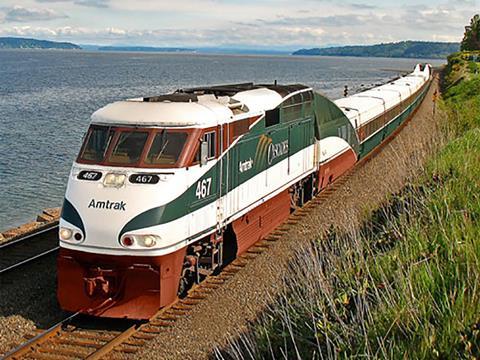 NORTH AMERICA: Washington State Department of Transportation has appointed WSP to prepare a business case analysis for an 'ultra-high speed ground transportation system' connecting Vancouver, Seattle and Portland. WSP will be assisted by Steer, EnviroIssues, Paladin Partners and Transportation Solutions.
The proposed high speed railway would be between 435 and 475 km long and designed for speeds of 400 km/h, with the aim of offering a 1 h journey time from Seattle to Vancouver or Portland.
A preliminary analysis prepared for WSDOT by CH2M Hill last year confirmed the need for a more in-depth feasibility study, and funding for the completion of this by July 2019 has now been agreed by WSDOT (US$0·75m), Oregon Department of Transportation (US$0·2m), British Columbia's Ministry of Jobs, Trade & Technology (C$0·3m) and Microsoft Corp (US$0·3m).
WSP will be responsble for identifying potential corridors, refining cost estimates, estimating ridership and analysing lessons learned from previous US and international infrastructure and high speed rail projects.
'This project is an exciting opportunity to improve communities, grow the economy, and open doors for people and businesses to prosper across an entire region in a sustainable, future-focused way', said Karen Hedlund, WSP's Project Manager, on July 30. 'Imagine the impact of a large company in Seattle able to access a workforce in Vancouver that is only an hour away, or a person able to live in a rural community outside of Portland, but commute daily to Seattle.'
Washington Governor Jay Inslee said the proposal was 'a vision for a better connected Cascadia megaregion that will help our talented entrepreneurs, researchers and workers share knowledge and expand economic opportunity.'
Microsoft President Brad Smith said high speed rail would 'help grow economic opportunities in the Cascadia Innovation Corridor', as 'shrinking the distance between Seattle, Vancouver and Portland will encourage greater collaboration, deeper economic ties and balanced growth for years to come.'