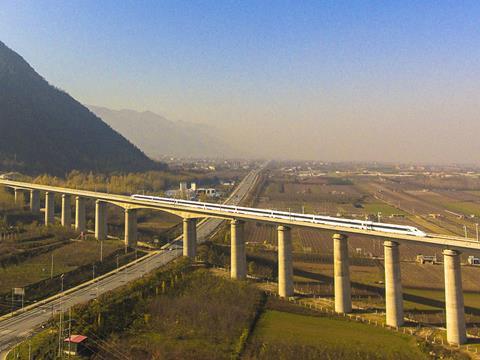 CHINA: Revenue services on the 511 km Xi'an – Jiangyou section of the 663 km Xi'an – Chengdu Passenger-Dedicated Line began on December 6, with the first train leaving Xi'an at 08:22. The maximum operating speed on the line is 250 km/h.
The 153 km first phase between Chengdu and Jiangyou had opened on December 20 2014. Completion of the entire corridor has now reduced the Xi'an – Chengdu journey time from 11 h to 4 h 7 min, which will be further reduced to a fastest time of 3 h 27 min from the timetable change at the end of the year when the number of services will be increased from 19 to 62 per day.
Construction of the Xi'an – Jiangyou section was approved in October 2010 and work got underway in October 2012, at a cost of 71bn yuan. It is the first high speed line to pass through the Qinling mountains, and measures have been taken to minimise the impact on vegetation and wildlife.
More than 84% of the route is on 139 bridges and in 62 tunnels, including the a 20·9 km crossing of the River Fenghe, the 25·9 km Wenchuan bridge and the 19·0 km Xushui bridge. The longest tunnels are the Tianhuashan (16·0 km), Laoanshan (15·2 km), Daqinling (14·8 km), Deli (14·2 km), Xiao'an (13·4 km), Furenshan (13·1 km), Hejialiang (12·4 km), Qingliangshan (12·6 km), Jinjiayan (12·0 km) and Huangjialiang (11·6 km).