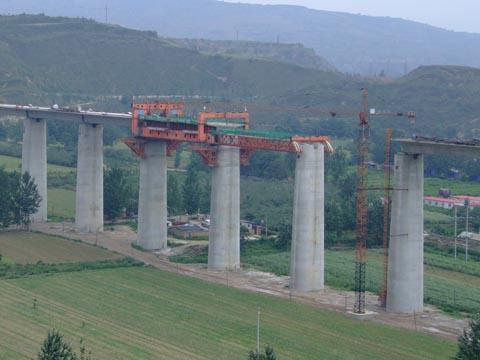 CHINA: The National Development & Reform Commission has approved the construction of a 391 km passenger-dedicated line connecting Zhengzhou and Jinan, at an estimated cost of 50·4bn yuan. According to a feasibility report adopted on August 31, the line is due to be completed by 2020, serving en route the growing city of Puyang in the north of Henan province.
Henan is looking to develop a network of 10 regional PDLs to augment the north-south Beijing – Guangzhou and east-west Xi'an – Xuzhou corridors that intersect at Zhengzhou. Lines have already been approved running southwest to Nanyang and Wanzhou, southeast to Fuyang and Hefei, and northwest to Taiyuan. The Jinan line would run northeast along the Yellow River valley from Zhengzhou Dong, serving intermediate stations at Xinxiang Dong, Hui Nan, Puyang Dong and Liaocheng.
Connecting with the Beijing – Shanghai and Jinan – Qingdao PDLs, the new line is expected to improve connections between Zhengzhou, Puyang and the Bohai economic region in neighbouring Shandong province. Approximately 237 km of the line will lie in Henan and the remainder in Shandong. A Puyang City Development Zone is to be created around Puyang Dong station, which is forecast to be handling more than 6 million passengers per year. Construction is expected to begin at the end of October.
Meanwhile, September 1 saw the start of tracklaying on the Shaanxi section of the 510 km Xi'an – Chengdu PDL, which is expected to open for revenue service by the end of 2017. Tracklaying is initially working southwards from the Han River bridge at Hanzhong, towards the Qinling mountains; work on the 238 km northern section from there to Xi'an Bei is expected to start shortly for completion by February. In total, 672 km of track is to be laid in Shaanxi.
Marking the first anniversary of the opening of the Shenyang – Dandong PDL on September 1, Shenyang Railway Bureau announced that the 207 km line had carried 13·2 million passengers in its first year of operation. This represented 36 000 passengers per day, with a peak single-day ridership of 71 000. The line is served by 39 trains each way per day, with a fastest journey time of 1 h 11 min. Some trains run through to Beijing, giving a fastest connection between the capital and the northeastern port city of 6 h 15 min.