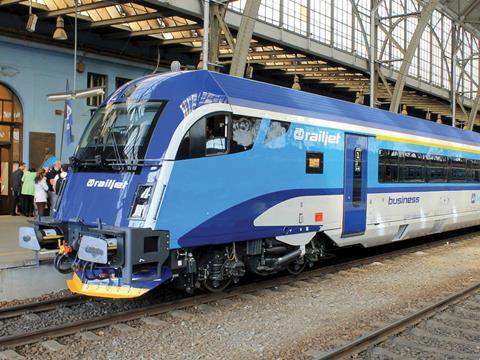 EUROPE: Czech infrastructure manager SŽDC and its Austrian counterpart ÖBB Infrastruktur have signed an agreement to cut journey times on the Praha – Linz corridor. Both parties agree that the frequencies and timings are uncompetitive and unsustainable, with a fastest journey time of 4 h 51 min for the 294 km trip via Tábor, České Budějovice, Summerau and Freistadt.
On the Czech side, journey times on the Praha – České Budějovice line have been lengthened by 30 min since a major upgrading of Corridor 4 began in 2005, while on the Austrian section ÖBB trains run as regional services with frequent stops, taking 1 h 11 min for the 61 km between Linz and Summerau.
ÖBB believes that that an end-to-end journey time of 4 h would justify four or five Praha – Linz fast trains a day. ČD expects to cut Praha – České Budějovice timings to 1 h 45 min once most of the modernisation is completed, which would permit a journey time of 3 h 45 min by 2019-20. ÖBB has committed to cutting Linz – Summerau to less than 1 h by omitting several stops. A further reduction is impossible owing to the deferral of track doubling on a bottleneck between St Georgen (Gusen) and Linz.
The joint agreement is to be formalised in a memorandum of understanding between the two transport ministers, which will also cover the important Praha – Wien – Graz corridor where full operation of ČD/ÖBB Railjet services is to start in December.