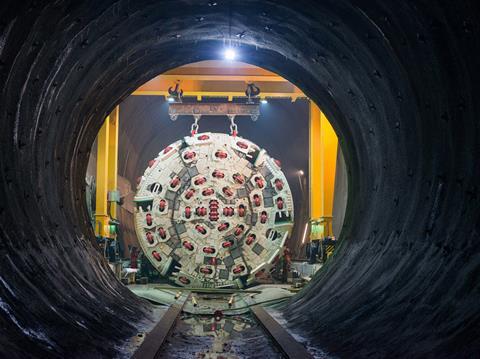 EUROPE: Having been selected as preferred bidder in March, a consortium led by Italian construction firm Astaldi has been selected to undertake 'all principal underground works' under Lots 2 and 3 of the Brenner Base Tunnel linking Austria with Italy. These cover the section between the south portal at Fortezza and the Austrian border.

The contract is worth 'approximately €1bn', Astaldi says, of which its share is 42·5%; the other consortium members include Ghella (42·4%), COGEIS, Oberosler Cav Pietro and PAC (all 5%). Working over a period of seven years, the consortium will be responsible for excavating a total of 69 km of tunnel, comprising of one exploratory bore and two running tunnels. Project promoter Brenner Basistunnel BBT SE has decided to excavate a 57 km exploration tunnel along almost the entire length of the route as it seeks to mitigate geological risks.

Boring is already underway at four principal work sites, and BBT SE expects to have let contracts for 85% of the construction work by the end of this year.

Due to open for traffic in 2026, the base tunnel would provide a faster, flatter route than the existing steeply-graded railway between Innsbrück and Venezia. At 64 route-km including the existing Innsbrück bypass, the Brenner Base Tunnel will be the longest in the world when it is completed. The project budget is €8·8bn, of which 40% is to be met from EU sources and the remainder by the two national governments.

'We are proud to contribute to the achievement of one of the major works now under construction in Europe', said Philip Stinellis, CEO of Astaldi Group. 'The Brenner Base Tunnel is a great opportunity for us and for Italy, the employment levels will ensure that during its implementation, but also because it is a work of pioneering engineering that, once completed, will significantly improve the transportation of passengers and goods in the heart of Europe.'

A detailed explanation of the Brenner Base Tunnel project appeared in the June 2013 issue of Railway Gazette International, available to subscribers via our digital archive.