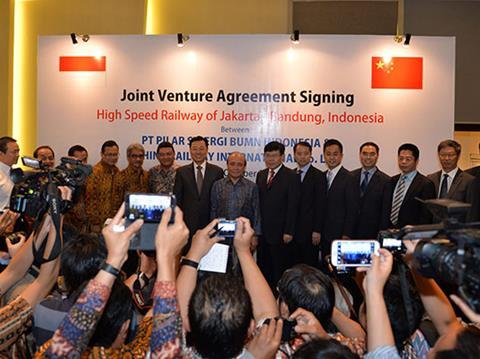 INDONESIA: President Joko Widowo was joined by Jakarta Governor Basuki Purnama on January 21to lay a ceremonial foundation stone in Cikalong Witan to mark the launch of construction of a 142 km high speed line between Jakarta and Bandung.

Indonesian officials had agreed last October to proceed with a 'business to business' agreement whereby a consortium with 40% Chinese involvement would develop the railway with no financial involvement from the government in Jakarta. Three-quarters of the estimated US$5·5bn cost is coming via loans from China Development Bank, with China Railway International Co Ltd holding a 40% share in the construction consortium. Domestic participants include construction firm Wijaya Karya, toll road operator Jasa Marga and national railway PT KAI.

Subject to completion of the land acquisition process, construction of the railway is expected to take three years, with trains planned to start running in the first half of 2019. The current plans would see terminus stations built on the edges of both cities at Jakarta Halim and Bandung Tegalluar, with metro and light rail links to both envisaged under existing urban rail plans. Two intermediate stations are to be built at Karawang and Walini. Trains would run at up to 250 km/h, giving an end-to-end journey time of between 40 min and 60 min.

Wijaya Karya has appointed a consortium of engineering consultancy Atkins, architects Aedas and Singapore-based developer Surbana Jurong to design commercial and residential property around the stations as part of a development initiative planned to last until 2030.