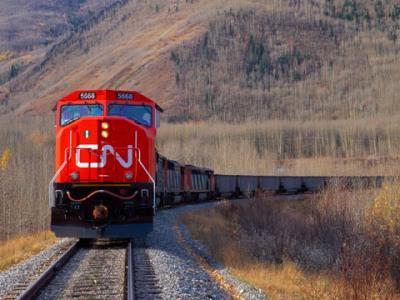 CANADA: Canadian National has confirmed that work will start shortly on its planned 243 ha intermodal facility at Conrich, Alberta, northeast of Calgary.
First announced in 2010, the C$200m Logistics Park will have more than 185 000 m² of warehousing capacity, the capability to handle heavy containers and space for customers to build their own on-site distribution centres. The first phase is scheduled to open at the end of 2012, with an area dedicated to regional vehicle distribution opening in 2013. This will followed later by liquid and dry-bulk transload and distribution facilities.
Logistics Park will be located 10 km from Calgary International Airport and served by several major highways. CN President & CEO Claude Mongeau said the facility was 'part of CN's plan to build similar multimodal facilities across our network at key distribution nodes to handle a variety of goods and commodities. Our goal is to reduce logistics costs for our customers through highly-efficient materials handling, transportation and distribution processes.'
Having purchased four short lines in northern Alberta in 2007-07 for C$76m, CN has invested C$260m over the past four years to upgrade the Athabasca Northern, Lakeland & Waterways, Mackenzie Northern and Savage Alberta railways. These serve the area's abundant natural resources, handling mainly timber, coal, petroleum coke, grain, wood pulp and sulphur. Infrastructure upgrading has required significant investment in new rail, sleepers, ballast, bridges, passing loops and communications systems.
CN expects to complete by the end of this year a further C$135m programme to improve the Athabasca Northern line to Fort McMurray, near the Alberta oil sands region, as part of a long-term deal negotiated with three high-volume shippers. Noting that 'reliable, consistent rail service is essential to current and future oil sands and resource developments', Mongeau said 'our infrastructure investments represent a clear and meaningful commitment to help foster that growth with quality rail transportation'.