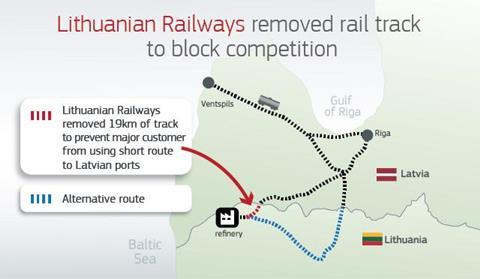 LITHUANIA: State railway Lietuvos Gelezinkeliai expects to start work shortly on reinstating the 19 km cross-border railway from Mazeikiai to Renge in Latvia, Managing Director Mantas Bartuska announced on October 18.
Earlier this month the European Commission fined LG €27·9m for dismantling the line in 2008, on the grounds that this had hindered competition in the freight market by limiting the ability of other potential operators to serve Orlen's refinery. It was also ordered to 'bring the infringement to an end', which Competition Commissioner Margrethe Vestager suggested during a recent visit to Lithuania could best be solved by reinstating the line.
Bartuska did not confirm the likely cost of reconstruction, which had been estimated at around €20m. He insisted that the railway had been dismantled purely because it had become unsafe to operate. LG had previously argued that the other two border crossings to Latvia were being used to less than of 20% of their nominal capacity.
Asked about the possibility of Latvian operator LDz Cargo, the port of Riga and Orlen lodging claims for compensation, Bartuska told local media that these could not be ruled out, although he did not think there were substantial grounds. LG was already in negotiation with Orlen in an effort to avoid litigation, and expected to speak to the Latvians soon.
LDz spokesman Maris Ozols said the railway was still assessing the potential loss caused by the breaching of the line. While it did not rule out seeking compensation from LG, its priority was to get the link reopened as soon as possible, he insisted.