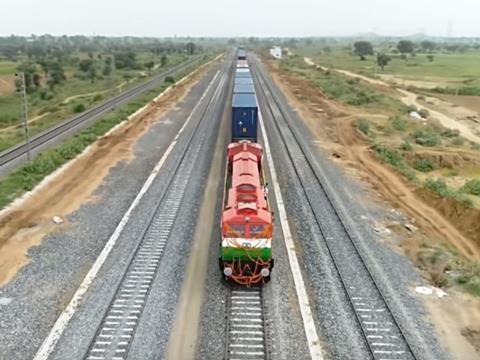 INDIA: Several sections of the first two Dedicated Freight Corridors are on course to open over the next few months, the Ministry of Railways confirmed on November 5.
The ministry's original intention had been to open the corridors in their entirety once completed, but with work on some sections reportedly only 50% finished, the government has decided to push ahead and open the various sections as they are completed. Project promoter Dedicated Freight Corridor Corp of India Ltd began handing over the finished tracks to Indian Railways earlier this year.
The 1 504 km Western DFC linking Jawaharlal Nehru Port near Navi Mumbai with Dadri in Uttar Pradesh and the 1 856 km Eastern DFC from Ludhiana in Punjab to Dankuni near Kolkata are both scheduled to be completed by March 2020. Electrified at 25 kV 50 Hz, the DFCs are intended to increase capacity on two of India's busiest corridors, allowing IR to operate longer and heavier freight trains on largely segregated alignments.
An inaugural train was operated on August 15 over a 190 km section of the Western DFC between Ateli in Haryana and Phulera in Rajasthan, although trains using this section are currently diesel-hauled pending the completion of electrification works. Further sections running northwards from Ateli to Rewari on the edge of the Delhi conurbation and south from Phulera to Madar near Ajmer are due to be handed over by the end of this year, taking the operational length to 304 km. A further 128 km through Rajasthan between Madar and Marwar is on course to be commissioned in February, with the 207 km from Marwar to Palanpur following by September 2019.
On the Eastern DFC, a 200 km section in Uttar Pradesh, linking Khurja to the southeast of Delhi with Bhadan east of Agra, is expected to be commissioned by the end of November. This is scheduled to be followed in January by a further 143 km between Bhadan and Bhaupur. According to DFCCIL, the 402 km Bhaupur – Mughalsarai section of the Eastern DFC should be completed by August 2019, followed in October by the 126 km from Mughalsarai to the Sone River bridge at Sonnagar, which will take the line into Bihar state. The short 46 km section from Khurja to the junction of the two lines at Dadri near Delhi should be ready by the end of next year.
This would leave 401 km of the Eastern DFC and 738 km of the Western DFC to be finished in 2020, along with the 127 km belt line between Rewari and Dadri which skirts around the south of the Delhi metropolitan region.