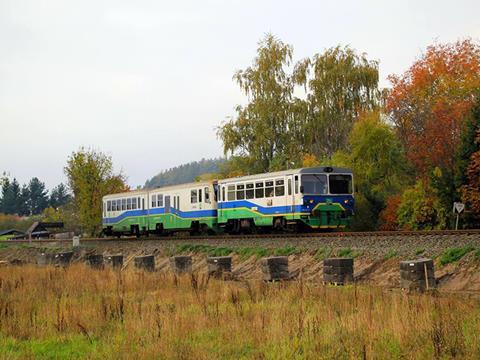 CZECH REPUBLIC: Work is underway to modernise and install 3 kV DC electrification on the Železnice Desná local railway which links Šumperk with Kouty nad Desnou.
The 19·3 km line was taken over by a group of local authorities after national railway ČD declined to repair extensive flood damage in 1997. The EU is meeting 75% of the KC394m cost of the modernisation, the first time it has funded a project on a Czech line which is not owned by national infrastructure manager SŽDC.
The work being undertaken by EŽ Praha and Eurovia CS includes resignalling and track, station, bridge and level crossing upgrades. The maximum speed will be lifted to 80 km/h with the aim of reducing journey times from 35 min to 20 min.
Completion is scheduled for December, in support of the local authorities' plans to attract more tourists to holiday and winter sport resorts in the Jeseníky mountains.
Trains are currently operated under contract by Arriva Morava. New lightweight EMUs are to be procured to replace Železnice Desná's existing DMUs in 2017, enabling through operation from Kouty nad Desnou over SŽDC tracks to Zábřeh nad Moravě and Olomouc. The 3 km branch from Petrov nad Desnou to Sobotín will continue to be diesel operated.