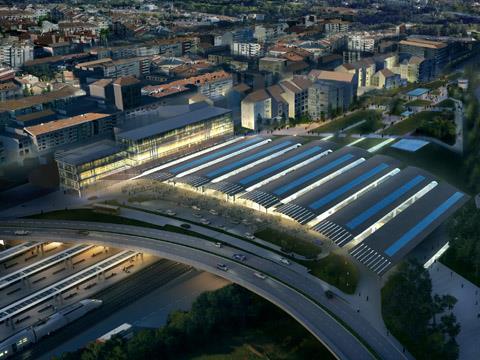 SPAIN: ADIF has appointed a joint venture of UK architectural practice Foster + Partners, civil engineering consultancy GOC and Cabanelas & Castelo Arquitectos to design a new station at Ourense. The contract is worth €3·4m and includes supervision of architectural works over 24 months.
A budget of €67·3m has been set for building the new station, which will involve covering over a total of 17 700 m2 above the tracks. There will be two 500 m island platforms for 1 435 mm gauge high speed services, as well as a 200 m platform with two tracks for 1 668 mm gauge regional trains. The station building itself will cover 4 700 m2, and the project also includes a bus station with 25 bays, a 500-space car park and 6 000 m2 of office space.
According to Foster + Partners, 'above ground, the station's presence is discreet and transparent, with glazed facades that allow views through to the mountains beyond'. The winning design includes a new park 'which will create a major new public space in the city and open up pedestrian links between the districts on each side of the tracks'.