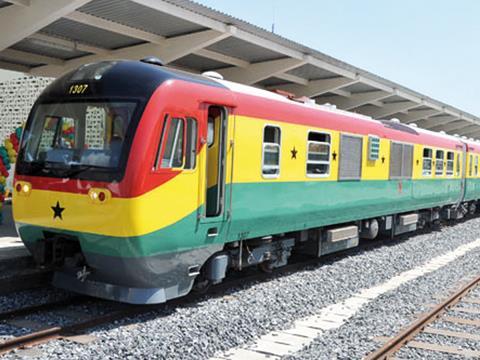 GHANA: A US$2·2bn build-operate-transfer concession agreement for the 340 km Accra – Achimota – Koforidua – Bososo – Boankra – Kumasi railway project was signed by the Ministry of Railway Development and Ghana European Railway Consortium on April 4. The agreement must now be approved by the cabinet and parliament.
GERC comprises 16 companies including Germany's Havelländische Eisenbahn and Ralf Blankenbach GmbH, Austria's Voestalpine, Italy's Salcef and local company Keteke Group. It is envisaged that government would take a 30% stake, and construction would be supported by German development assistance funding.
The concession would run for 30 years, including a three-year construction period and 27 years of operation before the line is transferred to the government.
The double-track electrified 1 435 mm gauge line would follow the alignment of the existing 1 067 mm gauge eastern railway corridor built between 1910 and 1923. There would be a 24 km branch from Achimota to the port of Tema and another from Bososo to planned bauxite mines at Kyebi. The line would also serve an inland port being developed at Boankra, south of Kumasi. There would be major stations in Accra, Koforidua and Kumasi, and 30 smaller stations.
Traffic is estimated at 12 000 to 18 000 passengers per day with 4 million tonnes of freight per year.
The only operational passenger rail service in Ghana at present is the link between Accra and neighbouring Tema, operated by a fleet of CRRC DMUs.