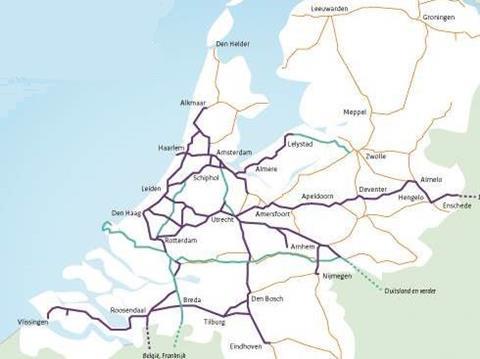 NETHERLANDS: A 10-year programme for the introduction of the European Rail Traffic Management System across the core rail network has been approved by the ruling cabinet of the coalition government.
A budget of €2·5bn had previously been agreed for ERTMS implementation up to 2028, and the programme presented by State Secretary for Infrastructure & Environment Wilma Mansveld has been designed to make the most effective use of the available funding.
ETCS is already operational on the Betuwe Route freight corridor, HSL-Zuid and the new Hanzelijn between Lelystadt and Zwolle, mainly using Level 2, but with some Level 1. It has also been installed on ProRail's Amsterdam – Utrecht main line in conjunction with the quadrupling of that route over the past decade. Around 20% of the NS fleet has been equipped so far, according to Mansfeld.
The government has now agreed that ETCS Level 2 should be adopted as the standard train control system, replacing the increasingly obsolete ATB automatic train protection equipment, and improving capacity at the same time. All rolling stock is to be equipped with Baseline 3 compliant onboard equipment by 2022.
Under the infrastructure programme due to start in 2016, ETCS will be installed on the majority of routes in the Randstad conurbation, and on the main lines running south to Vlissingen, Roosendaal and Eidhoven, and east to Arnhem, Nijmegen, Almelo and Bad Bentheim, which are used by international freight and passenger trains. At this stage it will not be installed north of Alkmaar nor on the routes to Zwolle, Groningen and Leeuwarden.
Meanwhile, in order to ensure safety in the short term, Mansfeld said that all routes not currently equipped with ATP or where ERTMS is scheduled would be fitted with an improved ATB-Vv.