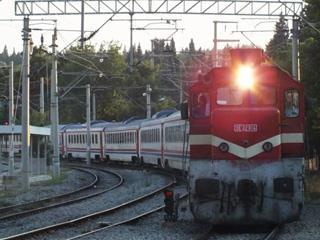 TURKEY: National railway TCDD has awarded a joint venture of Invensys Rail and civil engineering company Fermak a €76m contract to provide ETCS Level 2 signalling and associated communications equipment for the 310 km line linking Bandirma on the Sea of Marmara with Menemen near Izmir.
Invensys Rail's share of the contract is worth €59m, and includes design, supply, installation, testing and commissioning of its Futur onboard and lineside equipment, Westrace electronic interlockings, FS3000 jointless track circuits, level crossing safety systems and GSM-R voice and data communications, along with a central traffic control centre in Balikesir.
Invensys Rail has previously supplied ETCS Level 1 for the Ankara - Konya high speed line, and is currently upgrading this to Level 2 in partnership with Yapi Merkezi.
In November 2011 Invensys Rail Dimetronic signed a contract to supply Sirius CBTC and Futur ERTMS for the Marmaray cross-Bosporus tunnel project. Invensys Rail says this will be the first time a line will be equipped with both ETCS for long-distance services and CBTC for commuter trains.