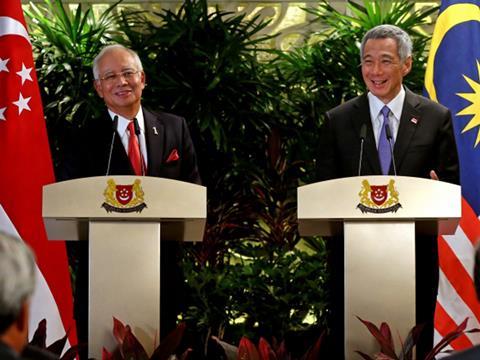 ASIA: The planned opening date for the proposed 330 km high speed line between Kuala Lumpur and Singapore is to be put back from 2020 to a more realistic date, the prime ministers of Malaysia and Singapore jointly announced after their annual leader's retreat on May 5. The location for the future Singapore terminus has also been confirmed.
Malaysia's Najib Razak said construction is expected to take five years, following one year for design and one year for tendering. 'We looked at the timeline and the original timeline of 2020, we think is not really a realistic one', said Singapore's Lee Hsien Loong. 'We have to take a bit more time to do it well, but to do it without delay'.
Lee said the high speed line was the most important of the co-operation projects the prime ministers discussed at their retreat. A fastest journey time of 90 min is envisaged, and Lee said the line would be a 'game changer', meaning 'you can go up to Kuala Lumpur in a day, have lunch and return to Singapore; or you can come down to Singapore for a day, do business because our hawker food is not quite so good, and go back to Kuala Lumpur again.'
Officials have been tasked with drawing up a bilateral agreement covering the structure of the project by the end of the year. A consortium led by KPMG and including Jacobs has undertaken a study of possible financing and operating models for the Singapore government.
Once the agreement is finalised, a revised timeline will be announced.
Lee announced that the Singapore terminus is to be at Jurong East, in the Jurong Lake District which Lee said 'is going to be our second central business district.' A city centre location was rejected because of cost and lack of space, even underground, while Tuas was considered to be too far from the centre.
A regeneration zone at Sungai Besi has previously been announced as the site for the Kuala Lumpur terminus.
Officials will also study technical and financial options for the Rapid Transit System which is proposed to link Woodlands North station on Singapore's Thomson-East Coast Line with a still-to-be selected terminus in Johor Bahru. Selection of the termini will enable the two sides to decide whether to build a bridge or tunnel.