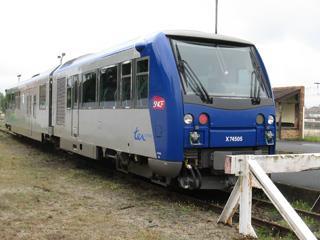 FRANCE: Infrastructure manager RFF and the Centre region have signed an agreement to fund upgrading of the metre gauge Blanc-Argent line to ensure its long-term future.
Passenger services on the 56 km Salbris - Valençay line are operated for SNCF by Keolis subsidiary Compagnie du Blanc Argent. The December 2 upgrading agreement will see the Centre region provide €8·85m towards the €13·6m modernisation, with RFF allocating €4·5m alongside a local contribution of €0·25m.
The work is scheduled for completion by September, and includes subgrade and structure rehabilitation and track relaying to increase line speeds to 70 km/h. This will use 38 km of second-hand rail from LGV Atlantique.
Setec is managing the project on behalf of RFF, with Egis Rail as prime contractor.
SNCF and Transports de Martigny et Régions have signed an agreement for joint management and marketing of the 55 km metre-gauge route from Saint Gervais in France to Martigny in Switzerland. RFF will undertake infrastructure works to accommodate a service of two trains per hour from 2014.