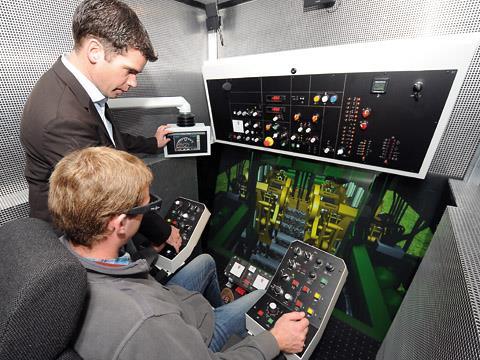 GERMANY: Launched at its training centre in Bingen am Rhein last month, Deutsche Plasser's three-dimensional tamping machine simulator is claimed to be the first of its kind in the world.
The simulator includes a number of authentic parts from a Plasser & Theurer continuous-action tamper to create a realistic operating experience. These include the driving desk, control panel, driving seat with armrest-mounted controls, and foot pedals to control the tamping tines and 'satellite' module. Developed with visual design specialist Volke, the 09-3D simulator recreates as far as possible a real tamping scenario covering plain line and renewals; settings can be adjusted to alternate between wooden and concrete sleepers. The trainer can also introduce a series of obstacles for the operator, such level crossings, inductive track magnets or cable ducts. Results detailing the speed and accuracy of each training session can be downloaded from the simulator's operating system in real time.
A second identical simulator is now under construction for Plasser's production plant in Linz, as the company detects a growing demand for specialist training for users of such advanced machinery. Speaking in Bingen, Dr Manfred Kehr, Director of the VDEI Academy for Railway Engineering, compared the complexity of the control equipment of a modern track machine to that of a commercial aircraft, and urged the industry to adopt a formal licensing system for operators.
Meanwhile, Deutsche Plasser has recently extended its Bingen training centre, the former station building at Bingen Stadt on the Koblenz – Mainz main line, to meet an increasing workload. Plasser reports that visitors can be categorised in two types: senior staff, both from within Plasser and from its largest customers, who come to update their knowledge on the latest machine designs, and newcomers to the industry who require more thorough schooling in principles of track design and maintenance. This complements the basic tuition given at the Linz factory whenever a customer buys a new machine.