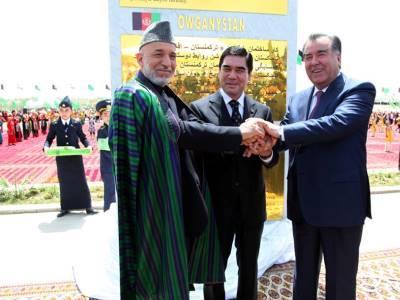 TURKMENISTAN: President Gurbanguly Berdimuhamedov was joined by his Afghan counterpart Hamid Karzai and Tajikistan's Emomali Rahmon in Atamyrat on June 5 for a ceremony to launch construction of the first phase of a railway planned to link the three countries. A time capsule containing a letter 'addressed to posterity' by the presidents was buried beneath the first shovelful of concrete.
A tri-national memorandum of understanding for the construction of the line was signed on March 20. At the groundbreaking event the presidents said they hoped the railway would boost trade opportunities and regional economic development and integration.
Design work for the initial 85 km section from Atamyrat (formerly Kerki) to the Imamnazar border crossing between Turkmenistan and Afghanistan was completed last year. Following the March meeting between the presidents, Afghanistan formally invited the Turkmen authorities to undertake studies for a 38 km continuation across the border to Aqina and Andkhvoy. This could be funded and built by Turkmenistan, and would provide a second rail link between the two countries in addition to a Soviet-built line to the Towraghondi freight terminal.
The longer-term plan is to continue the new railway across northern Afghanistan to Sherkhan Bandar and Tajikistan. All existing rail routes to Tajikistan pass through Uzbekistan, but in recent years relations have been strained and traffic disrupted. Studies have alerady been undertaken for the 225 km section of this corridor between Andkhvoy and Mazar-i-Sharif, the terminus of a 75 km line from Uzbekistan.
The Uzbek government has accelerated the timescale for 25 kV electrification of the 140 km Marakand – Qarshi line, with completion now envisaged for 2014 rather than by March 2016.