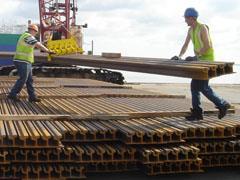 Denmark: København metro authority Metroselskabet has signed a €33m upgrading framework agreement with Ansaldo STS covering ATC, Scada, security and information systems, rolling stock components and depot equipment.
A joint venture of Strukton Rail and Aarsleff has won a contract for track renewal and bridge repairs on 38 km of Banedanmark's Bramming - Tønder route by mid-August.
Finland: Lemminkäinen has won a €22m contract to build a 2 km tunnel between Koivusaari and Espoo for Helsinki's Westmetro project.
France: Colas Rail has won a €4·7m contract to provide power supply equipment for the 15 km tram line under construction in Tours.
Germany: K+M Fahrleitungstechnik is to undertake electrification work for the doubling of 9 km of Rhein-Neckar-Verkehr's metre gauge Weinheim - Schriesheim route.
Stadtwerke Augsburg Verkehrs GmbH has awarded Vossloh Laeis a €0·7m contract to supply tramway turnouts.
Iraq: Under an 18-month contract Systra is to provide Baghdad council with design and tendering services for the proposed 40 km two-line metro.
Israel: ISR has appointed Yani Ltd as chief designer for electrification.
Italy: Alstom will supply E&M equipment worth €80m for the 6·4 km second phase of Milano metro Line 5 from Garibaldi to San Siro.
Mexico: Axion is to supply Ferromex with recycled plastic sleepers for trials in coastal areas where sea salt degrades wood and concrete.
Poland: Tramwaje Warszawskie has awarded ZUE Spóka Akcyjna a 37·5m złoty contract to modernise 3·2 route-km of tramway with six stops between Kijowska and Zieleniecka.
Romania: Metrorex has awarded Max Bögl a 231·7m lei 20-month contract to build the metro Line 5 western terminus and depot at Valea Ialomita. The Eroilor – Drumul Taberei section is due to open in 2014.
Saudi Arabia: Saudi Binladin has awarded Bombardier a US$96m contract to supply a Innovia APM 300 peoplemover for King Abdulaziz airport in Jeddah. The 1·5 km line will have 10 cars and Cityflo 650 ATC.
Harsco is to supply maintenance equipment for the North–South heavy haul line under a US$15m contract.
Spain: Benito Arnó e Hijos has been awarded two contracts worth a total of €126m for the supply of ballast for the Palencia – León high speed line. ADIF has awarded a third contract worth €92m to Ofitas de San Felices.
Iberovías and Rover Alcisa have won a €272m contract to build an 18 km cut-off and upgrade 9 km between Agramón and Cieza, saving 15 min on Chinchilla – Cartagena journeys.
ADIF has awarded Alstom and Indra a €24m contract to supply and maintain safety equipment for tunnels on the high speed line between Ourense and Santiago de Compostela, including fire suppression and communications systems. The 30 tunnels with a total length of 289 km represent one third of the route.
UAE: Etihad Rail has awarded a joint venture of Aecom and Parsons International a programme management contract for Phase 1 of the rail network and preliminary engineering on phases 2 and 3 (RG 5.11 p76).
UK: Network Rail has awarded Amey Rail a £6·5m contract for signalling works at Stalybridge to abolish two signalboxes.
Network Rail has selected Aecom to undertake design work for modernisation of 13 stations west of London for the Crossrail project.