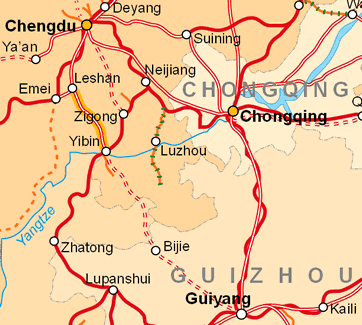 CHINA: The 141 km Leshan – Jianwei – Pingshan – Yibin section of the future Chengdu – Guiyang Passenger-Dedicated Line opened on June 15.
The alignment is designed for 250 km/h operation, and 79% of the route is on bridges or in tunnel. The fastest services operated using CRH3A trainsets now take 1 h 25 min to cover the 276 km from Chengdu to Yibin, down from more than 6 h on the conventional route.
A new type of energy-saving transformer on the line is expected to save 710 000 kWh/year and reduce CO2 emissions by more than 700 tonnes.
The 135 km Chengdu – Leshan section opened of the PDL in 2014, and construction of the latest section began in late 2013. It will eventually form part of a high speed corridor from Lanzhou to Guangzhou.