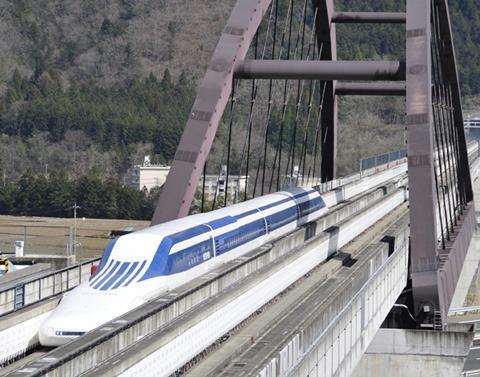 JAPAN: Trials resumed on August 29 at the magnetic levitation test facility in Yamanashi prefecture following completion of work to extend the guideway. Transport Minister Akihiro Ota and JR Central Chairman Yoshiyuki Kasai were on board a demonstration run that day which attained a speed of 505 km/h.
Tests on the 18·4 km 'priority section' near Otsuki were suspended in September 2011 to allow construction of two further sections of the guideway to go ahead, one stretching east to Uenohara and one running west to Fuefuki. Connecting end-on with the priority section, the two additions take the length available for trials of the superconducting maglev technology to 42·8 km.
The guideway is built on the alignment of the proposed Chuo Shinkansen from Tokyo to Nagoya and eventually Osaka, with much of the route lying in tunnel under Japan's central mountain range. Current plans envisage completion of the maglev route as far as Nagoya in 2027.
Construction of the two extensions has been funded by JR Central, which decided in September 2006 to invest ¥355bn from its own capital to allow completion of the test facility.
The Series L0 vehicle used in the current phase of tests is a five-car formation, but JR Central envisages trials with a 12-car configuration once a further nine cars have been built by 2015.
Media representatives on board reported acceptable levels of vibration, although a reporter for Asahi Shimbun watching the test run from nearby described 'a shockwave and a massive gust of wind' as well as 'a deafening sound'.