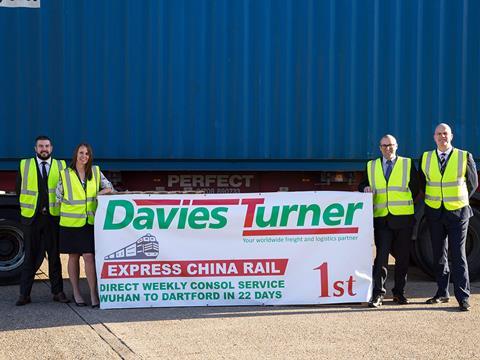 INTERNATIONAL: Freight forwarding company Davies Turner has extended the rail element of its Express China Rail less-than-container-load service linking Wuhan in China with the UK.
Containers were previously transferred from rail to road in Warszawa, but now continue to Duisburg, from where they are sent by road under bond to Rotterdam, by ferry to Purfleet in the UK and by truck to Davies Turner's Dartford distribution centre for discharge and customs clearance. The Wuhan to Dartford transit time is 22 to 24 days.
'This new more direct method of moving the container from Wuhan to the UK will remove the current need to unload the container in Poland, then reload into a trailer, which will enable us to offer a lower rate to the market, and reduce the possibility of delays, as well as strengthening security', said Tony Cole, Head of Supply Chain Services at Davies Turner.
Company Chairman Philip Stephenson said this would 'give us the opportunity to convert more shipments from airfreight to the less expensive rail service, whilst upgrading shipments currently moving by ocean-freight to the faster overland option.'