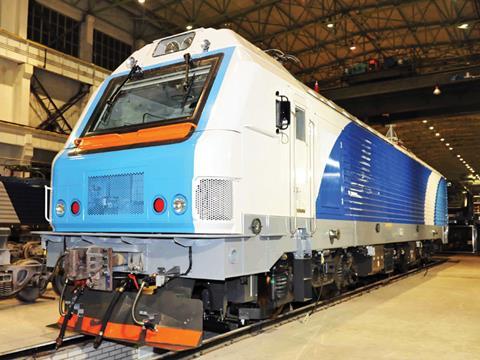 BELARUS: An order for electric locomotives and a loan to fund railway electrification were among the agreements signed during President Lukashenko's official visit to Beijing in July.
The state-owned Export-Import Bank of China is to provide a loan to cover 85% of the US$116·9m cost of the 18 locomotives, which are to be built by CNR Datong Electric Locomotive and supplied through China National Electric Import & Export Corp within 21 months.
The single-section AC locomotives will be rated at 7·2 MW with a maximum speed of 120 km/h. They are intended to haul lighter freight trains than the 12 Class BKG1 twin-section locomotives which were ordered by national railway BC in October 2010 and are now entering service on heavy freight trains from Russia to Belarus.
During the talks in China, CNR expressed interest in taking a stake in BelAZ Holding's Mogilev Carriage Works, with a view to using the facility to produce traction equipment, coaches and tank wagons to Chinese designs for EU customers.
Exim Bank also agreed a loan to cover 85% of the US$80m cost of electrifying the 90 km Zlobin - Gomel route, where work began in April. This is the next phase of a programme to complete electrification of the lines southeast from Minsk to Gomel and Kalinkavichy. Wiring has been completed from Asipovichy to Babruysk, and Babruysk - Zlobin is scheduled for completion in September.
BC estimates that extending the electrification and the acquisition of a total of 30 modern electric locomotives from China will enable it increase the proportion of traffic operated with electric traction from 28% to 46%.
BC has taken delivery of two DP1 single-car DMUs produced by Belkommunmash in conjunction with Pesa, and a third is to follow this year. Eight 2TE10 locomotives have been repowered with new diesel engines, which is expected to significantly reduce fuel consumption.