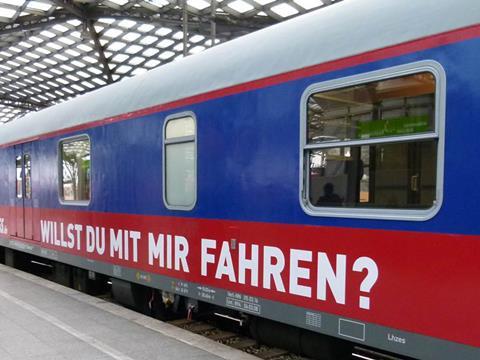 GERMANY: Hamburg-Köln-Express services are to temporarily resume in December and January, long-distance coach company FlixBus announced on November 2.
In August HKX announced its intention to suspend its open access passenger service from October 4 until December. The arrangement with FlixBus will see services running between Hamburg and Köln via in Düsseldorf, Duisburg, Essen, Gelsenkirchen, Münster and Osnabrück between December 22 and January 2.
'For years we have successfully co-operated with railways in other countries, and recently with Locomore we have proved that multimodal networks have a future in Germany too', said FlixBus founder and Managing Director André Schwämmlein.
FlixBus is to work with charter train operator BTE, and will sell HKX tickets from €9·90, with shorter journeys on the route from €5.
FlixBus will also increase the Berlin – Stuttgart services that it provides with LEO Express under the Locomore brand from November 7. Like the HKX partnership, this is managed by the FlixTrain GmbH subsidiary which was set up earlier this year.
'With multimodal concepts like the combination of long-distance coaches and trains, we are creating an attractive alternative to owning a car', said Schwämmlein. 'We believe that in Germany too the integration of public transport modes is the future of mobility.'